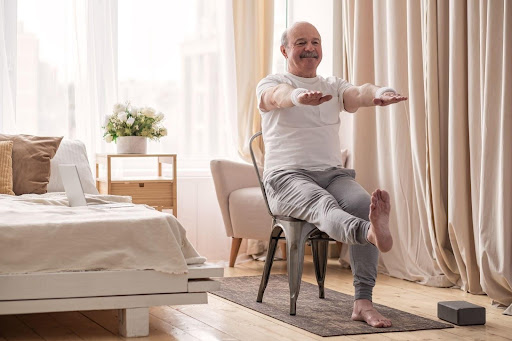 4 Fitness Tips for Seniors with Limited Mobility
Regular physical activity is one of the best things you can do for your mind and body. Not only does regular exercise promote brain health, but it also supports weight management, reduces your risk of disease, and lifts your mood.
However, it can be challenging for seniors with limited mobility to find exercise routines that suit their ability levels. Want to add more fitness to your day? Use these four helpful tips to get started.
1. Slow and Steady Wins the Race
It's easy for anyone to get overly excited about embarking on a new fitness journey. But diving into a new exercise regimen head first can do more harm than good. This is especially true for sedentary bodies that need time to adjust to movement again.
Take things slow and steady. Even small changes can have significant impacts. Talking to your healthcare provider before starting your new exercise routine is also essential.
2. Consistency is Key
Exercising daily can improve your energy levels, help you sleep better, and boost your mood. Try to move every day, even for just five minutes. Walk to your mailbox to get the paper. Or, do some gentle yoga stretches first thing in the morning before you start your day.
Daily exercise helps you maintain your fitness routine for the long haul. Always start small and focus on developing the habit before worrying about your results. Make a list of your daily exercises the night before and put it somewhere you'll see it immediately, like on your bathroom mirror. This gentle reminder will help keep you motivated.
3. Always Do Your Warm-Ups and Cool-Downs
Warm-ups and cool-downs are essential for seniors who haven't exercised for a long time. These activities can alleviate muscle soreness and reduce your risk of injury.
Before you exercise, spend several minutes stretching your muscles. After your workout, give your body time to return to its natural resting condition. Don't immediately sit down after you've taken a brisk walk. Slowly move around your home until your heart rate has come down.
Don't forget to stay hydrated! This includes before, during, and after your workout. Keep a large water bottle near you at all times. Set reminders on your phone to hydrate throughout the day.
4. Find Your 5 Perfect Exercises
Sticking to just one or two exercises per week can become boring. Keep things exciting by doing different physical activities every weekday. Some exercises to try include:
Yoga or chair exercises
Stretches that increase your range of motion, like side stretches and semi-sits
Water exercises, like aqua aerobics
If you feel unsafe doing these exercises alone, ask a friend or relative to join you. Visiting Angels' Leominster in-home caregivers are also happy to assist.
Get the Support You Deserve
Whether you want a fitness buddy or need assistance completing daily chores, Visiting Angels is here to help. Since 1998, we have provided award-winning caregiving services to the residents of Leominster, Templeton, Gardner, and surrounding areas. We always take a client-centric approach and develop a deep understanding of your needs and preferences. This way, we can create a personalized plan that suits your lifestyle. To learn more, contact us today by calling 978-227-5263.