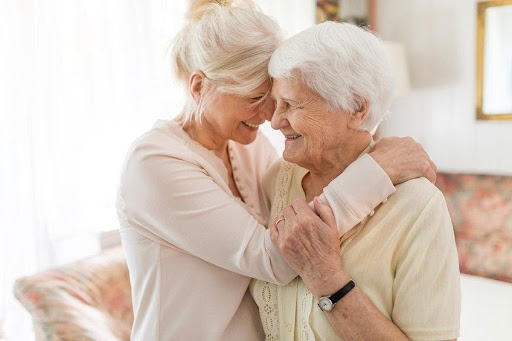 Five Ways to Help Seniors with Dementia Bloom
Dementia is a memory disorder that can completely transform your senior loved one's life and can be a difficult transition for your family as well. Your loved one may still know who they are but likely doesn't have the same memories as before. They may have trouble following conversations or telling time. As the disease progresses, it becomes more difficult for them to do day-to-day tasks that most people take for granted.
People diagnosed with dementia share similar symptoms of memory loss, confusion, and difficulty completing tasks. There are many reasons for this condition, but one of the most common is Alzheimer's disease which accounts for 60%-70% of cases among people aged 65 or older.
For many families, dementia can be challenging to experience, mentally and emotionally. Your loved one may seem like a different person, but there are a few ways to meet them in the middle and inspire creativity and joy to offset some of the negative parts of dementia. Learn how to encourage mental health for seniors with dementia with tips from your Visiting Angels Leominster team!
Encourage Visual Expression
Painting and drawing are ways to express feelings creatively. Encourage your loved one to use bold and bright colors on plain and big surfaces. Rolls of butcher paper will allow seniors with dementia to create without countering the stress of contained spaces.
Create a Memory Box
A rummage or a memory box can help older adults feel connected to their past. Get any package and fill it with items like their work portfolio, copies of photos, and essential keepsakes. Or you can fill the box with things they loved. For example, if the individual used to do handy work, put nuts, bolts, pipes, and twine in their box. Meanwhile, someone who enjoyed cooking or baking might cherish measuring spoons, a whisk, and a spatula. All you need is to be creative when filling this box.
Watch Movies or Old Videos Together
Did your aging loved one enjoy watching classic television like "Gunsmoke" or movies like "The King and I"? You can find their old favorites at a local library or online streaming websites. Serve snacks, turn down the lights like a movie theater, and have fun discussing their favorite movies.
Explore the World with Live Cams
Nature preserves, aquariums, and zoos present delightful experiences for kids and seniors alike. Given that your senior loved ones may not move quickly, you can use live camera footage to provide visual stimulation. Many art museums like the Louvre in Paris offer live tours of their galleries, which could be an excellent experience for housebound loved ones.
Schedule Additional Care
Sometimes a change of scenery can do wonders for a person with dementia (including a change in caregiver!). Scheduling professional in-home care with a Visiting Angels Leominster caregiver gives you a chance to enjoy some time away and provides your loved one companionship in the safety of their home.
Feel Diverse Textures
Unique textures can provide sensory stimulation and memory cues. If the aging family member is a pet lover, you can also get a fluffy cat or a pup. If they like to garden, suggest touching damp leaves or soil. Textures can also help with fulfilling activities. For instance, you can try making a bag of blocks or fabrics to feel.
Supporting Your Loved Ones at Visiting Angels Leominster
Understanding your senior loved ones will help you plan essential activities for them. Try not to overstimulate the person as this could worsen their situation. Also, avoid crowds, constant movement, and noise, which could be overwhelming for them. Our team is here to support your loved one's physical, mental, and emotional well-being with a variety of home care services. Read our FAQs or call for a free consultation!