Age in Place in Lexington: Home Renovations You May Need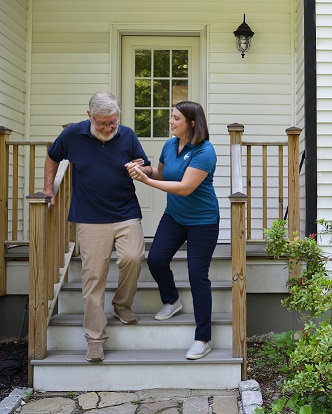 If given the choice, most seniors will choose to age in place, in the comfort and familiarity of home. At Visiting Angels® in Lexington, we can help with that. Our flexible home care helps seniors remain at home for as long as possible.
But that's not all. We can also offer tips and advice for safe, independent living. For seniors who want to remain at home, a few key renovations can make it that much more practical. Let's take a look.
3 Renovation Tips For Seniors in Lexington
When seniors wish to age in place, safety is an essential consideration. It may be necessary to renovate the home to prevent slips, falls, or other hazardous injuries. For families in Lexington, here's what we recommend:
Visibility. Having bright lighting throughout the home can be crucial for confident, safe navigation. Hallways, entrances, bathrooms, and kitchens are all key areas to pay attention to. If possible, investing in motion-sensor lighting can make it easy to move around the home without a second thought.
Mobility. Slipping and falling can have greater consequences for seniors. It's important to focus on mobility-related renovations. These may be as simple as adding sturdy railings to all stairs as well as the bathroom and bedroom. Make sure any cracks or uneven areas of flooring are dealt with, as these can be a serious risk.
Flexibility. Reaching for items can become more taxing at this time of life. It's a good idea to store all frequently used items within easy reach. Pull-down and pull-out shelving can be a great addition to cupboards, closets, and pantries. It's also a good idea to swap faucets and doorknobs with lever-style hardware, so there's less twisting involved.
Age In Place With Professional Home Care
For seniors in Lexington, professional senior care can also make a difference. Here's how we can help:
We make fall prevention a priority. Our care team can identify potential fall risks and help you take safety measures.
We can take care of difficult tasks. A dedicated caregiver can handle cooking, laundry, and errands, with greater ease.
We offer dignity and independence. We make it possible for seniors to age in place independently, comfortably, and on their terms.
Live Independently With Senior Care
If you or a loved one wishes to age in place, Visiting Angels in Lexington is here to help. Starting with an initial consultation, we can make sure you have the support that's needed.
Age in place safely and comfortably. Set up professional home care with Visiting Angels in Lexington today.