Companion Care in Libertyville: Making Sure Your Loved One is Ready for Fall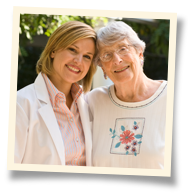 As the cooler temperatures of fall and winter arrive, it's important to realize your aging loved one may need some help to become prepared. Companion care services from Visiting Angels® Libertyville can help them with the in-home, non-medical care and needs while you can help with outside-the-house needs.
What You Can Do and How Companion Care Services in Libertyville Help
Inside the home, our companion care services at Visiting Angels Libertyville can help to navigate the colder weather with comfort and security. Our skilled and professional caregivers can help with services such as:
Walking — Helping your loved one to feel safe when navigating slippery, wet, or icy walkways
Seasonal reminders — Remind your loved one of doctor appointments for flu shots, etc.
Running errands for medication and other pharmacy needs
Hand washing reminders, especially in public areas
Dressing — Ensure your loved one dresses appropriately for the daily weather
Respite and specialized care — Certified for Dementia and Palliative care
Flexible and hourly care — Including temporary, part and full time, weekends, and holidays
Meals — Planning, preparing, and feeding
These are a few of the services we provide with our companion care program at Visiting Angels Libertyville.
Some of the things you and your family can do to help your aging loved one to prepare for the colder weather are:
Trim bushes, clean gutters, and rake leaves to reduce the risk of slipping, tripping, and falling
Inspect and clean HVAC so your loved one stays warm and healthy
Check seals on windows and doors to reduce drafts and keep heating bills to a minimum
Drain outdoor water from hoses, sprinklers, and spigots to reduce the risk of freezing pipes and costly repairs
Check roof for loose shingles and fascia boards
While you may not have the time to do all the things it takes to get ready for the colder weather, consider making it a family event and include your loved one in the festivities, they'll appreciate the gesture, the company, and being outside. If that can't be arranged, call a yard service to help you with the fall and winter preparation.
Call Visiting Angels Libertyville today to learn about our companion care services, available in the Libertyville area and proudly serving the communities and surrounding areas of Deerfield, Lake Bluff, Lake Forest, Gurnee, Lincolnshire, Mundelein, and Vernon Hills.