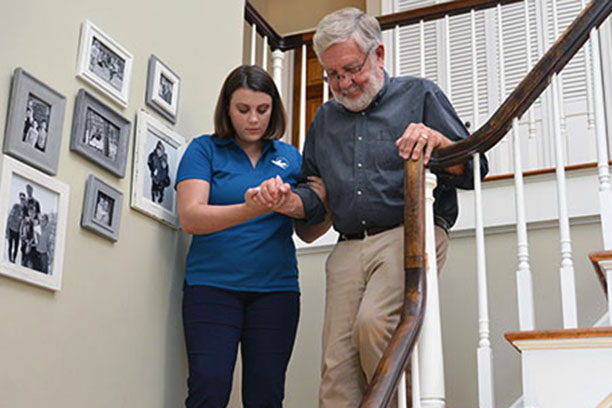 Senior Support Services for Fall Prevention in Greater Livermore, CA
Most of the preparations we make for our senior years include aspects of our lifestyle, such as how we will spend our time, where we will live, and how we will deal with any health issues that may arise. Many elderly people have their best-set intentions ruined by a slip, trip, or fall. The elderly, especially, are particularly vulnerable to the devastating health effects of even frequent domestic mishaps. Our senior support services can assist you and your family in determining what changes might help prevent falls and keep your loved one at home for as long as possible.
Senior Support Services Help Older Adults Avoid Falls in Their Homes in Livermore, CA, and Nearby Areas
Slips, stumbles, and falls are common but may have long-lasting effects. More than 2.8 million injuries and 27,000 fatalities are attributed to falls each year, as reported by the National Council on Aging. These mishaps may lead to long-lasting injuries, including fractures, sprains, strains, concussions, and chronic pain.
Because at Visiting Angels of Livermore, we want your loved one to enjoy the comforts of home for as long as possible, we focus on making sure that their environment is secure and easy to navigate. Visiting Angels of Livermore provides senior support services, and its caregivers may assist you in locating possible risk zones.
Examples of typical household dangers are:
Flooring
There are likely several potential trip hazards in the house of your loved one, such as the transition from carpet to tile flooring or a loose rug edging on top of tile flooring. The shuffling of older adults' feet or the use of mobility aids may make various areas of the home hazardous.
Not Enough Support for Stability
Installing grab bars in the restroom and any other area where your loved one may need to sit, lie down, or stand on their own is a must. Make sure your loved one can use all of the amenities in their house by taking a walk around each room with them.
Not Enough Lighting
As we become older, the need for good lighting becomes all the more apparent. You should provide enough lighting in all common areas so that your loved one can move about securely and find what they need in closets, pantries, restrooms, and corridors.
The effects of aging on the body increase the likelihood of these types of incidents occurring in the homes of the elderly. Your loved one's capacity to remain safe at home may also be impacted by the onset of a new health condition, the introduction of a new medicine, or a change in their current lifestyle. With the assistance of senior support services, aging adults are more likely to stick to their prescribed prescription schedules, decreasing the risk of falls due to adverse drug reactions.
Are You Worried About an Older Relative?
Visiting Angels of Livermore provides senior support services for those who are worried about the long-term health of a loved one who lives alone. If you need help taking care of an elderly loved one, our agency can help.
Get in touch with us right away to hear about the individualized care programs we provide to seniors.


Serving Livermore, Brentwood, Discovery Bay and the Surrounding Areas
Visiting Angels
LIVERMORE, CA
179 Contractors St.
Livermore, CA 94551
Phone: 925-443-1000