Senior Care in Howell, MI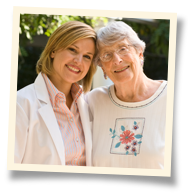 We all want the freedom to live how and where we choose, and that doesn't change as we get older. However, with advanced age comes changes in ability that can make even the simplest everyday tasks challenging. If you're worried about a loved one living independently in Howell, MI, senior care from Visiting Angels® Livingston - Oakland can help.
By offering a wide range of essential services with flexible scheduling and one-of-a-kind caregivers, we make aging in place safer and more comfortable for seniors at every stage of life.
About Our Customized Senior Care in Howell
Your loved one is a unique individual with their own needs and routines that often don't fit into a one-size-fits-most care plan. At Visiting Angels Livingston - Oakland, we've done away with rigid, pre-designed care plans. Instead, we meet with every client to understand their circumstances, schedule, and budget, and create customized care that supports their individual needs.
Just a few ways our caregivers can assist your loved one include:
Personal care - Our caregivers offer dignified assistance with a variety of daily hygiene needs, giving seniors the confidence to remain social and active, including bathing, dressing, and toileting.
Mobility assistance - Every year, one in five older adults sustain serious injury from falls, such as a broken hip, fracture, or concussion, making falls a real fear for seniors. Our caregivers offer a steady hand and support, making it safer for your loved one to move around the home, go for walks, and enjoy favorite activities.
Transportation - For seniors that no longer drive, our caregivers provide reliable transportation to appointments, shopping, and running errands.
Memory care - Our specialized Alzheimer's and dementia services give seniors experiencing cognitive ability changes the support they need to continue living at home for far longer than might otherwise be possible. Services include medication and appointment reminders, wandering prevention, monitoring, companionship, and help using appliances in the home.
We are also pleased to offer transitional care, social care, palliative care, end of life care, and respite care for family caregivers.
Howell's Trusted Choice in Senior Care is Visiting Angels Livingston - Oakland
At Visiting Angels Livingston - Oakland, we're passionate about providing seniors with the care and support they need to age in place safely. We offer free consultations, continuous monitoring, and after-hours support for emergency care needs.
Our essential senior care services are available to seniors in Howell, Milford, Brighton, South Lyon, Oak Grove, Pickney, Fowlerville, and the surrounding communities.
To learn how senior care can help your loved one live independently in Howell, call Visiting Angels Livingston - Oakland today at 810-844-0210 to request a free assessment.