Finding the Right Dementia Caregiver for Your Loved One in Longview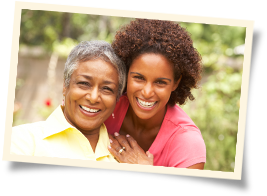 Acting as the caregiver for an elderly loved one is a demanding task, and one that can quickly become overwhelming. It's not uncommon for other aspects of your life to wind up taking a backseat to your loved one's needs. If you are looking for a way to restore the balance, partnering with a professional dementia caregiver may be just the thing. Visiting Angels® Longview employs skilled and compassionate dementia caregivers that can provide dignified assistance for Longview area seniors, as well as relief and respite for their families.
What Should You Be Asking A Potential Dementia Caregiver in Longview?
Talking with prospective dementia caregivers is a great way for you to find out about not only what services a caregiver can provide, but about who your caregiver is. Feeling that a caregiver clicks with your family, and that their values are aligned with yours can go a long way towards making you feel comfortable in your decision-making process.
Some questions to ask a potential caregiver in Longview include:
What is your experience in providing elderly and dementia care?
Do you have first aid training? Are you certified to provide CPR?
What are you emergency protocols? How will I be contacted?
What services are you able to provide? Can you provide one-on-one care?
Are their any tasks that you don't feel comfortable with or aren't qualified to perform?
How can I reach you if I have questions or need to make a change to plans?
Getting Answers in Longview
While finding the right dementia caregiver can feel overwhelming, it's really all about taking that first step. With Visiting Angels Longview, all it takes is a phone call to get started. We'll send one of our local experts right to your home to speak to you face-to-face about your loved one's needs, your unique circumstances, and your goals for their care. They'll walk you through the process step-by-step, from which services would benefit your loved one most to how we'll choose your caregiver. There's no pressure at all, just an opportunity to see how a dementia caregiver could change your loved one's life for the better. In addition to Longview, consultations are also free for families in Gladewater, Overton, Kilgore, Tyler, Gilmer, Marshall, Henderson, Carthage, and the surrounding area.
Call Visiting Angels Longview today to get started by scheduling your free, in-home consultation.