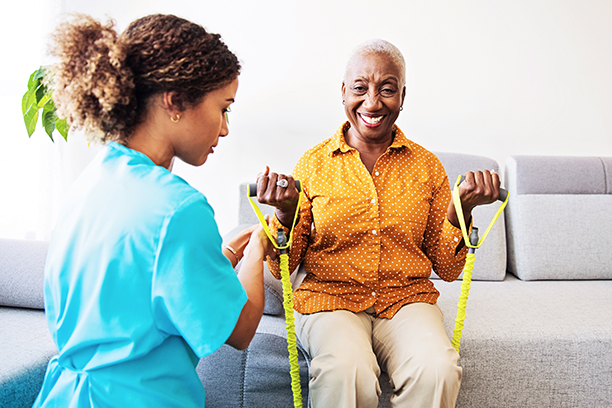 How Transitional Care in Louisville Reduces Hospital Readmissions
Ready-Set-Go Home with Transitional Care
While recovering from a hospital stay, older adults can often benefit from having a helping hand. Transitional care provided by the compassionate caregivers at Visiting Angels® Louisville is an option your loved one can use to minimize their risk of being readmitted to the hospital. Our local care agency's Ready-Set-Go Home program has been carefully designed and implemented to give seniors the customized support they require before and after a hospital discharge.
What Causes Readmissions in Louisville?
Older adults face a particularly high risk of experiencing complications for the first 30 days post-discharge. Some of these complications are completely avoidable and develop due to risky behaviors such as missing follow-up appointments, skipping important directives from physicians, and mismanaging medication schedules. For nearly 20% of seniors, a return to the hospital is likely within four weeks of being discharged.
The good news is that complications can often be prevented when seniors have dedicated help with completing basic activities and sticking to their doctors' instructions. Reliable support at home can thus increase an individual's chances of making a recovery and remaining at home for longer.
Understanding How Our Transitional Care Program Helps
By working closely with local families, we understand the challenges that come along with a hospital discharge. Based on this knowledge, we have created the comprehensive Ready-Set-Go Home program. Thanks to the services provided through this program, seniors won't have to worry about facing the discharge and recovery process alone. In addition, their family members can look forward to having guidance every step of the way.
To ensure high-quality care is available to seniors in Louisville when they need it most, we use a three-pronged approach to our transitional care program. Here are the main steps included in this approach:
We begin by offering help at the hospital. Families can take advantage of the resources offered by our care coordinators as they prepare for their loved one's discharge.
We deliver compassionate support in the home environment. Care recipients receive customized assistance with daily activities to prevent strain and promote adherence with physician directives.
We conduct monitoring from our local office. We support caregivers and clients alike from our office in Louisville through monitoring, scheduling, reminders, and coordination of other important aspects of care.
Take a moment to learn more about the advantages of transitional care. Contact Visiting Angels Louisville for a free consultation in Louisville, Jeffersontown, La Grange, Lyndon, Middletown, St Matthews, or a town in the vicinity.
Serving Serving Jefferson and Oldham County
Visiting Angels LOUISVILLE, KY
126 S Sherrin Ave
Louisville, KY 40207
Phone: 502-897-6547