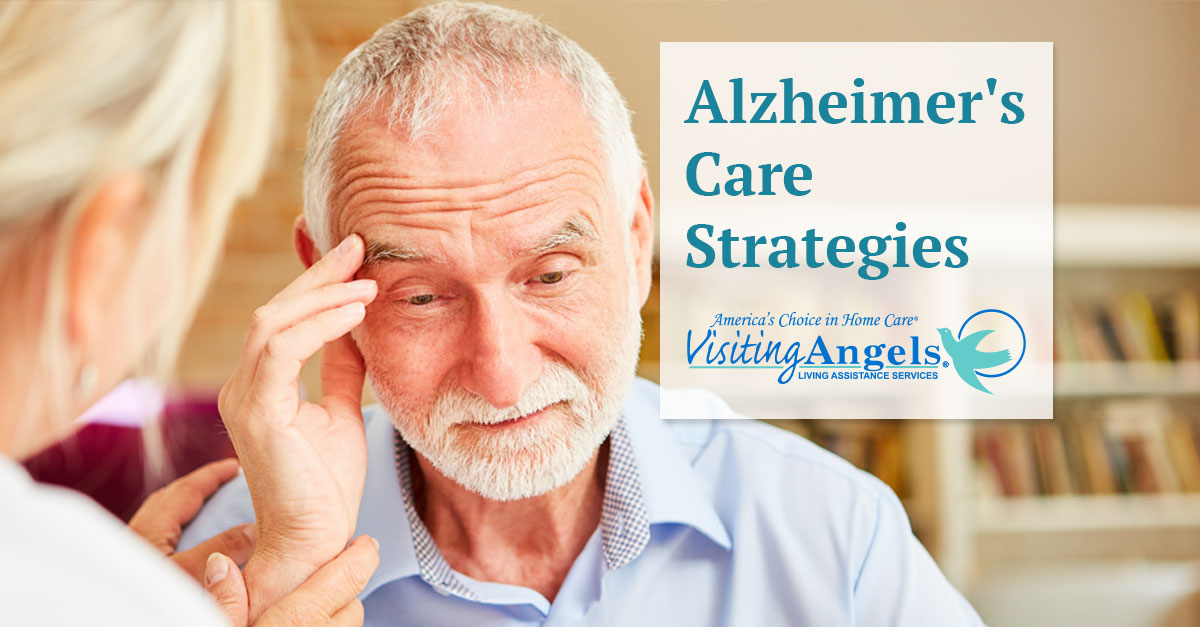 Alzheimer's Care: Strategies for Caring at Home
Alzheimer's care requires a lot of attention and energy, which is why so many families turn to senior home care services. Whether you're taking that route or caring as a family member, there are strategies to help overcome the difficulties.
We know that each day brings new challenges as simple tasks that were once second nature become increasingly difficult.
Although there is no one-size-fits-all solution for Alzheimer's care, here are some tried and tested strategies that may help you when providing Alzheimer's care at home:
Strategies for Alzheimer's Care at Home
Draw up a Daily Routine
Daily routines help all involved. Family caregivers often find stress reduced when there is a path to follow throughout the day. At the same time, those suffering from Alzheimer's can often find comfort in a smooth and comfortable schedule.
Start by identifying your loved one's daily routine and needs. Where do they struggle? What current events are positive and which are problematic?
For example, if your loved one is more cooperative and able to complete tasks in the mornings, then plan a routine that makes the most of this period. Of course, that may change from day to day, so try to be flexible when needed.
Thoughtful Communication
We don't doubt that you are thoughtful. But it can be a challenge for all family members to communicate. These suggestions may help:
Use simple words and short sentences that get points across fast.
Use a gentle, calm tone of voice.
But don't talk to them like a baby or as if they aren't there.
Minimize distractions, such as background noise from radios or TVs. This will help your loved one focus and process your words.
Gain their attention before speaking by using their name and making eye contact.
Patience is key when it comes to their response. Give them time and be careful not to interrupt.
Gently suggest words if they're struggling to communicate a thought.
Frame instructions and questions in a positive manner.
Be open to your loved one's concerns, even if they have a hard time expressing them.
Look at their body language if they're struggling to communicate. Emotions can often be revealed if they look uptight, scared or happy and excited.
Create a Safe Environment
Dementia and Alzheimer's can make judgment and risk management a problem. To help avoid injuries, consider these changes when providing Alzheimer's care at home.
Prevent falls - Remove potential trip hazards such as rugs, cables and any other obstacles.
Install handrails or grab bars in potential danger zones, such as near doorways, steps and bathrooms.
Use locks on cabinets that may contain anything dangerous. This often includes medicine, alcohol, cleaning substances and tools.
Check the water temperature. Hot-water burns are common Alzheimer's accidents. Consider lowering the water temperature on the hot-water heater so your loved one can use faucets without the risk of burns.
Take fire safety precautions. Remove any lighters or matches, ensuring your loved one is always supervised if they smoke. Replace old smoke and carbon monoxide batteries with fresh batteries.
Buy a non-slip bath and shower mats.
Well Planned Bathing
For many providing Alzheimer's care at home, bathing is one of the hardest parts of the day. Your loved one may find it frightening, confusing and stressful. They may believe they showered already when in reality, their last shower was days or weeks ago. These tips may help:
Plan baths or showers around the time of day when the person is often most calm and cooperative. Stick to that time to develop a routine, using the same products if possible.
Try your best to be gentle, calm and patient. Bathing can be scary for Alzheimer's patients, so listen to their concerns and inform them of each step of the process as you go.
Ensure you have all the products, towels and other items you need for bathing setup before your loved one arrives in the bathroom. This can reduce stress and ensure everything goes smoothly.
Prepare the bathwater in advance, ensuring the room is comfortable and that the water temperature is fit for your loved one's preferences - and not too hot.
Use a hand-held shower head, shower bench, grab bars and non-slip mats.
Never leave your loved one alone in the bathtub or shower.
Consider senior home care services if you're having problems with bathing.
Don't Rush Dressing.
Dressing can be a challenging part of Alzheimer's care at home. From choosing what to wear to getting clothes on and off, here are some tips that can make a big difference:
Try to schedule dressing time as the same time each day.
Ensure there is time to allow your loved ones to dress themselves as much as possible without the pressure of having to rush.
If possible, let your loved one choose their outfit.
Keep outfit options limited to avoid overwhelming choices.
Arrange clothes in the order they are put on to help the process go smoothly.
Hand one item at a time, with clear step-by-step instructions if needed.
Use clothing that is easy to get on and off and comfortable for all scenarios.
Safe Eating
As senior home care providers, we've seen a variety of Alzheimer's behaviors. Sometimes, people with the disease want to eat constantly, while others need reminding and encouragement.
View mealtime as a chance to socialize.
Plan plenty of time to allow for patient eating without rushing.
Try to create as quiet and calm an atmosphere as possible, with limited background distractions.
Allow your loved one to choose what they want to eat if they prefer, but keep the meal options limited to a variety of healthy, appealing foods.
If they struggle to eat an entire meal, they consider serving small portions or several small meals throughout the day.
Make healthy snacks and shakes available if your loved one is frequently demanding food.
Use utensils that promote independence with minimal risk. I.e., a bowl instead of a plate, easy-to-grasp utensils with thick handles.
Cut up their food into small portions if cutting, chewing and swallowing is difficult.
Encourage plenty of fluids in the day to avoid dehydration.
Consider senior home care for meal preparation if you struggle with finding the time.
Activities That Build on Current Skills
Activities can be one of the more enjoyable parts of Alzheimer's care at home. It often presents opportunities to open up your loved one's personality.
Find activities that match your loved one's current interests and abilities. Don't forget their interests.
Building on existing skills often works better than teaching new ones.
Short, simple activities without many steps are often the most successful.
Praise your loved one for each step completed and observe for signs of frustration. When frustration arises, help out or redirect their attention to other things.
Try to include activities into the daily routine.
Activities that maintain functional skills and personal control can help boost moods and make the day better for all.
Consider Senior Home Care Services
No matter how much you love the person who has Alzheimer's care, there is a limit to what an individual can do. That is not your fault.
Senior home care services can help out with Alzheimer's care at home, making considerable improvement in the lives of all involved.
If you're struggling, then consider senior home care services for a helping hand. Alzheimer's caregivers can provide 24/7 care or simply just a few hours here and there each week with respite care.
With expert, qualified caregivers, your loved one can reduce the difficulties of Alzheimer's while still living at home.
Senior home care services also give family members the chance to breathe. Whether you need a vacation, a break or a helping hand with certain tasks, you can reduce the burden placed on you - benefitting both you and your loved one.
Facts About Alzheimer's
By 2050, it's estimated that will rise to 13 million.
Symptoms most commonly appear after the age of 60.
Alzheimer's is in the top 10 leading causes of death in the U.S.
Senior Home Care for Alzheimer's in Wesley Chapel, Florida
If you're interested in Alzheimer's care at home services in Wesley Chapel, Florida, contact Visiting Angels today. We specialize in referring senior home care caregivers for dementia and Alzheimer's care at all levels, from respite care to 24/7 in-home care.