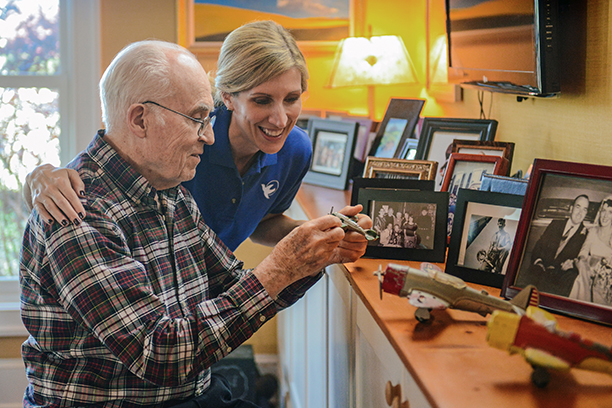 In-Home Alzheimer's Care in Lynchburg, VA and the Surrounding Area
Visiting Angels Is Here to Answer Your Questions About Our Alzheimer's Care Services for Seniors in Lynchburg, Amherst, Campbell County, and Surrounding Areas
Visiting Angels of Lynchburg has been a leading provider for in-home Alzheimer's Care for many years and we understand that families are often frightened over an Alzheimer's diagnosis. It might feel like your relationship with your loved one will never be the same, or that only sadness is in your loved one's future. Our caregivers prove every day that your loved one can have a healthy, safe, comfortable future, even if they want to continue living independently.
Is Alzheimer's Just Forgetfulness?
It is important to recognize that dementia and Alzheimer's are not a normal part of the aging process. While cognitive abilities may change for all of us as we age, Alzheimer's can make it hard to function daily. Alzheimer's can also appear earlier in life; this is called early onset, can affect adults by as early as their 40s or 50s.
What Is the Difference Between Alzheimer's Disease and Dementia?
Alzheimer's disease is a type of dementia. Dementia is a classification of degenerative cognitive diseases that can cause problems with memory, thinking, and behavior. With Alzheimer's, symptoms usually develop slowly, and will become worse over time. Severe or advanced Alzheimer's interferes with daily tasks and day-to-day living.
How Does One Manage Alzheimer's?
At Visiting Angels of Lynchburg, our Alzheimer's care program is dedicated to implementing the treatments and therapies that help patients have the best quality of life possible. There is no current cure for Alzheimer's, but research is ongoing and has given us a wide range of memory care treatment possibilities. The experts at Visiting Angels of Lynchburg can help you work on a wide variety of habits, hobbies, and care practices that all improve health outcomes for your loved one. There are social and behavioral treatments, medication treatments, and lifestyle changes that can all help moderate the symptoms.
How Do I Get Started with Care?
Visiting Angels of Lynchburg's Alzheimer's care program can be provided in-home or we can take care to wherever your loved one is staying like an assisted living facility or a nursing home. Visiting Angels of Lynchburg offers trained and experienced caregivers who specialize in dementia and Alzheimer's Disease, who know how to work specifically with clients who have these diseases. And you can get that care close to home when you work with our agency.
To get started, contact our agency today by clicking one of the buttons below to schedule a free, in-home assessment. We will be happy to go over questions you may have and discuss in finer detail about how our Alzheimer's care can help your loved one.
Serving Lynchburg, Forest, Amherst, Campbell County, VA, and the Surrounding Area
Visiting Angels
LYNCHBURG, VA
2900 Old Forest Rd Suite B
Lynchburg, VA 24501
Phone: 434-439-4698
Fax: 434-439-4733