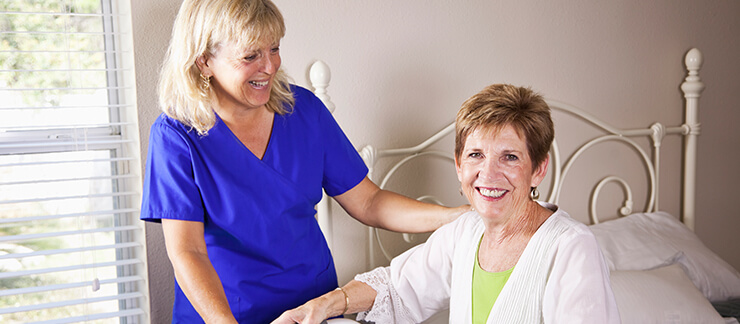 When In-Home Care is the Superior Option to Nursing Homes
Home, as they say, is where the heart is.
That's especially true as we age into our golden years. In what seems like an unfamiliar shift towards increased dependence, the home remains constant. Home health care services have grown increasingly popular for that very reason, and it's also a generally more affordable option.
Just a generation or two ago, a nursing home was a common destination for our senior loved ones when they needed greater support than what family can provide. But it's hardly the most common anymore.
The graying of America combined with the high cost of nursing home care make it necessary for older adults to stay in their own homes.
More than 75% of retired Americans want to stay in their homes as long as possible, according to a report published by the AARP.
And when aging adults stay in familiar surroundings and close to friends and family, they remain healthier and live longer, according to a study by the University of Michigan.
Considering Cost
By 2050, about one-fifth of Americans will be 65 and older. That's 88 million people, 19 million of which will be older than 84.
And as we live longer, the cost and need for care increase dramatically. That's true for both families and cash-strapped government programs like Medicaid and Medicare.
Cost varies by state and level of care. Visit genworth.com to calculate average monthly costs of care in your area.
Home care service is the simple way to pay less, and to allow your loved one the comfort and familiarity of their own home, as you'll see has its own benefits.
Comfort in The Familiar
Researchers are continuing to find evidence that the longer older Americans can stay at home, the better it is for their physical, emotional and mental health.
"Older adults want to be where the environment is familiar, neighbors can be relied on for assistance and socializing, and they have some sense of control,'' says Nancy Hooyman, an author and thought leader on aging. "Aging in place has documented benefits; it is found to be associated with better health, life satisfaction and self-esteem.''
Consider these factors:
Healthy and happier: Nursing homes combine many different people in varying degrees of health. One study found that 2 million infections occur in American nursing homes a year. "Infections in the nursing home population have been associated with high rates of morbidity and mortality, re-hospitalization, extended hospital stays and substantial healthcare expenses,'' according to the study.



Mitigating fear: Another study on aging in place found that seniors feared losing their independence and moving into a nursing home more than they feared death.



Peace of mind: That same study found that most baby boomers worried their parents would be mistreated in a nursing home and 89 percent said they feared their parents would be sad.



Social connections: Older Americans aren't so different than their younger family members and friends. We all thrive on social connections and interactions. Enabling

older people to stay involved in their communities is good for mental exercise, too.
"The need for social support — informational, emotional, or instrumental assistance from your social networks — will continue for the rest of your life, regardless of your age,'' Hooyman continues. "As social beings, we need to feel connected to others and experience a sense of belonging to a group or community at every stage in the life course."