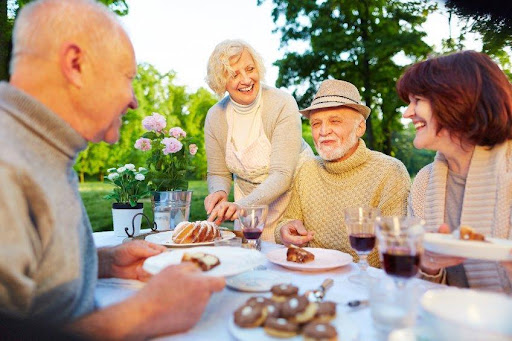 Elevating Your Picnic
July is National Picnic Month. Nothing says summer like outdoor dining, and there's no better outdoor dining choice than a picnic! Take this month to enjoy a few picnics and maybe even consider stepping up your picnic game with these elevated picnic ideas.
Elevate Your Location
Nothing beats a picnic in a park or open field, but there are many other fantastic locations to enjoy a picnic this summer.
Visit a nearby lake or pond. Who wouldn't love a meal on the water? Check out a local pond or lake and enjoy the beautiful scenery while you eat from the shore.
Enjoy a picnic at a low-key festival or fair. Check your local newspaper to see if there are any small music festivals or art fairs in town that allow you to bring food and drinks. If so, grab your picnic essentials and enjoy festivities with your meal.
Stay home and have a picnic in your yard. Who says you have to travel somewhere to have a picnic? If you're not up for moving locations for your meal, set up your picnic on your deck, porch, or yard.
Elevate Your Food
Traditional picnics thrive on sandwiches and soft drinks, but they're not the only foods worth bringing on a picnic.
Enjoy a salad-inspired picnic. A salad doesn't have to mean a bowl of greens, but think more about side dishes, like pasta salad or potato salad, that taste best cold. Other great salad options include fruit salad, tuna salad, and tofu salad.
Put together a charcuterie board. A simple charcuterie board can make any occasion feel a bit fancy. Purchase a few of your favorite cheeses, meats, crackers, fruits, and chocolates to arrange on a serving tray or cutting board. Don't feel like making a charcuterie board? Purchase a premade one from your local grocer.
Order or pick up food from your favorite restaurant. No rules are saying you have to prepare your picnic food. If you don't like cooking or don't have time to prepare a festive meal, grab food from your favorite restaurant and enjoy it outdoors.
Elevate Your Accessories
Turn your picnic into the ultimate dining experience by elevating your picnic accessories.
Set up portable chairs and tables. Throwing an oversized blanket on the ground is fun for a picnic, but it's also not the most comfortable option. Grab a few portable chairs and a table to set up at your picnic spot. You can find a picnic area with tables to enjoy your picnic.
Invest in a cute picnic basket. A canvas bag or lunch box works great for transporting food, but why not go all in and find a cute, reusable picnic basket! You can find great baskets online or at your local convenience store.
Don't be afraid to use real dishes and cutlery. Paper and plastic plates and silverware are convenient, but using reusable dishes can make your picnic feel more special. Visit your local dollar store or a convenience store for an affordable dinner set that you can dedicate to your outdoor dining adventures.
Are you a senior who loves picnics but needs help assembling one or wants company while enjoying your elevated picnic? The team at Visiting Angels Manassas, VA can help! Our compassionate caregivers provide various companionship and personal care services to help seniors stay independent and live their highest quality of life. Give us a call at 703.530.8811 or send us a message.