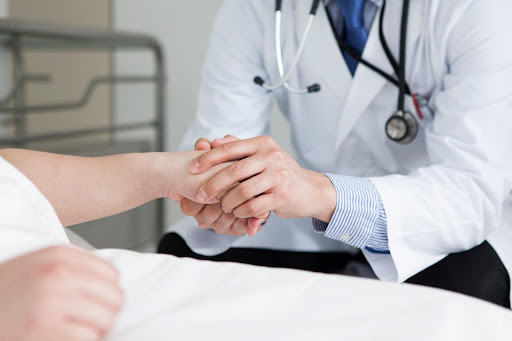 Common Thyroid Conditions in Seniors
According to the American Thyroid Association, nearly 20 million Americans have thyroid cancer. And of those 20 million, more than 60 percent are unaware of their thyroid condition. January is Thyroid Awareness Month, making it the perfect time to learn about the most common thyroid conditions to develop in seniors.
What is the Thyroid
The thyroid is a butterfly-shaped gland located on the front of the neck below the Adam's apple. Two lobes make up the thyroid, and those lobes are connected by a tissue called isthmus. The thyroid is responsible for making two different hormones; thyroxine and triiodothyronine. These two hormones regulate the metabolism of the body's cells.
Common Thyroid Conditions
A few thyroid conditions may develop with age, although most thyroid conditions can occur at any time.
Hyperthyroidism
Hyperthyroidism is when the thyroid produces too much of the thyroxine hormone. People with hyperthyroidism tend to experience weight loss, rapid heartbeat, irregular heartbeat, increased appetite, anxiety, irritability, sweating, changes in bowel patterns, swelling of the thyroid, fatigue, and difficulty sleeping. It might be hard for doctors to diagnose hyperthyroidism as many of the signs and symptoms are consistent with other conditions. Hyperthyroidism is most common in women and people who have a family history of hyperthyroidism or Grave's disease.
Hypothyroidism
Hypothyroidism is the opposite of hyperthyroidism. It is when the thyroid is not producing enough hormones. The signs and symptoms of hypothyroidism may vary. Still, they can include fatigue, constipation, dry skin, weight gain, hoarseness, high cholesterol, muscle aches, thinning hair, slowed heart rate, depression, impaired memory, or an enlarged thyroid. It's most common to develop in women after the age of 60. Additional risk factors include a family history of thyroid disease and those with an autoimmune disease.
Goiter
Goiter is a growth or the overall swelling of the thyroid gland. Many people with goiter have no signs or symptoms except for minor swelling at the base of the neck. If the goiter grows, it may cause trouble breathing and swallowing, coughing, and snoring. Additional signs and symptoms of goiter are fatigue, increased sensitivity to cold, sleepiness, dry skin, constipation, muscle weakness, and memory troubles. Goiter is most common in women after 40 and those who lack dietary iodine or have a family history of thyroid disorders.
Thyroid Nodules
Thyroid nodules are lumps that form in the thyroid. The lumps can be solid or filled with fluid. In most cases, thyroid nodules don't cause symptoms and are not severe. However, the nodule will press on the windpipe or esophagus in some cases, making it difficult to breathe and swallow. Some nodules may even cause hyperthyroidism, leading to weight loss or a rapid heartbeat.
Thyroid Cancer
Thyroid cancer develops in the thyroid cells. There are no signs or symptoms in the early stages of thyroid cancer. As the cancer progresses, a person may notice a lump on the neck accompanied by voice changes, difficulty swallowing, and pain in the neck. There are many different types of thyroid cancer, but the two most common types to develop in older adults are:
Follicular thyroid cancer: When cancer develops in the thyroid's follicular cells, it's called follicular cancer. It's most common in people after the age of 50.
Anaplastic thyroid cancer: Anaplastic thyroid cancer also develops in the thyroid's follicular cells but is rare. It generally develops in adults older than 60.
How Visiting Angels Can Help
If you or an aging loved one is living with a thyroid condition or another disorder that makes it difficult to care for themselves at home, the team at Visiting Angels can help. At Visiting Angels, we offer part-time, full-time, and respite care to assist families who need help caring for a loved one. Our caregivers can help seniors with light housekeeping, personal grooming, meal preparation, medication reminders, transportation, and more.
Our Marietta office serves those in Marietta and Smyrna, Georgia. If you'd like to learn more about our services, you can schedule a complimentary consultation by completing this online form or calling 770.709.6884.