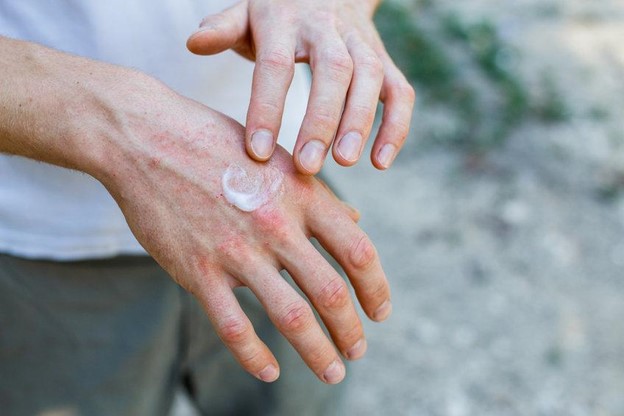 Living With Psoriasis
According to the National Psoriasis Foundation, more than 8 million Americans live with psoriasis. And of those diagnosed, nearly one-third will develop psoriatic arthritis. August is Psoriasis Action Month, making it the perfect time to learn about psoriasis and what you can do to ease your symptoms.
What is Psoriasis
Psoriasis is a condition that causes inflammation that typically presents itself as plaques or scales on the skin. It's caused by an overactive immune system that increases the growth of skin cells. Normal skin cells grow and shed. Those with psoriasis have skin cells that produce and pile up on the skin's surface, forming plaques that may itch, burn, or sting. Psoriasis can develop anywhere on the body, but it's most common on the scalp, elbows, and knees. Inflammation caused by psoriasis may lead to psoriatic arthritis, which is the swelling and stiffness of joints. If left untreated, psoriatic arthritis may lead to permanent joint damage.
Managing Your Psoriasis
Living with psoriasis may feel isolating at times, but it's essential to know psoriasis is nothing to be embarrassed about. Psoriasis affects many people, and it is possible to manage your psoriasis symptoms.
Find Ways to Manage Your Stress
Stress is a typical psoriasis flare that can make symptoms such as itching worse. If you're feeling a lot of stress in your daily life, find ways to manage your stress and reduce psoriasis flares. Some standard stress management tools include meditation, working out, and deep breathing exercises.
Avoid Your Triggers
Stress is not the only thing that can trigger psoriasis. Other common triggers include alcohol, smoking, certain medications, and intense sun exposure. Everyone's psoriasis triggers are different, so it's helpful to discover yours so you can avoid or manage those triggers. If you're unsure what triggers you, start by journaling when you have flare ups or when symptoms are at their worst. Then write down any activities you did, how you're feeling, and any foods you ate. After a few days, look for commonalities between your trigger days to help decipher what might be activating your psoriasis.
Consider Topical Therapy
Topical therapy includes the use of topical medications that are applied to affected areas of the skin. One topical medication used by those with psoriasis is corticosteroids to treat mild to moderate psoriasis. Corticosteroids come in the form of ointments, creams, lotions, shampoos, and gels. They're usually recommended during flare ups to manage itchiness and discomfort. Another topical medication is vitamin D analogs, which can help slow the growth of skin cells. You can also try calcineurin inhibitors, which reduce inflammation and plaque buildup. Make sure to talk to your doctor before starting any topical therapy.
Moisturize Your Skin
If you're experiencing dry or crack skin due to psoriasis, make sure to keep your skin moisturized. It's best to apply a moisturizer right after bathing. If lotions and creams don't seem to keep your skin moist, try a moisturizing oil to nourish your skin. You can continue to apply moisturizers two to three times a day.
How Visiting Angels Can Help
If you're experiencing discomfort due to psoriasis that's making it difficult to care for yourself, the team at Visiting Angels Marietta can help. Our compassionate caregivers can help with personal grooming, showering, toileting, mobility, and more. They also assist seniors with household tasks such as laundry, light housekeeping, meal preparations, and medication reminders.
Our Marietta office serves those in Marietta and Smyrna, Georgia. If you'd like to learn more about our services, you can schedule a complimentary consultation by completing this online form or calling 770.709.6884.