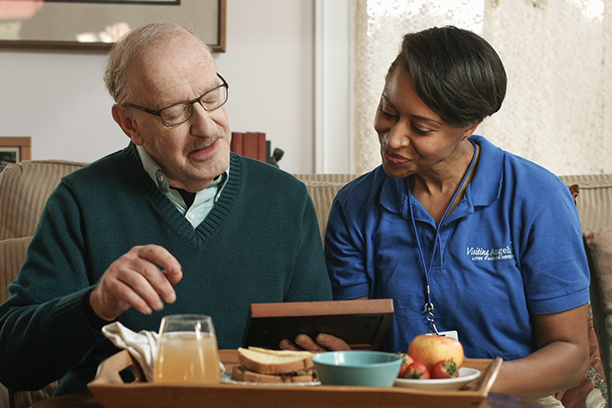 Live-In Home Care for Seniors in Allen, TX from Visiting Angels McKinney
Live-in care can be a practical option for seniors who have chronic illnesses or debilitating injuries and need some relief from the pain and discomfort that they experience. Our caregivers at Visiting Angels McKinney are able to provide meaningful assistance with managing discomfort and physical ailments. But perhaps most beneficial is the companionship and support our caregivers offer on a daily basis.
When a loved one experiences an unexpected trauma, such as a stroke or fall, families often find themselves in need of immediate help. Even loved ones with dementia or Alzheimer's disease, who's abilities deteriorate overtime, may suddenly require more help than you alone can provide. Live-in or 24-hour home care from Visiting Angels McKinney can provide the daily living assistance and reliable support families in McKinney, Allen, Prosper, Frisco and surrounding communities need. Your loved one will also benefit from professional, familiar caregivers being on-hand to assist with mobility, personal care and other needs at any time of night or day.
What to Know When Considering Live-In Home Care Options
Live-In Care is Different Than Hospice Care
Live-in services are often seen as being similar to hospice care, but they are different. The goal of senior care is to treat those with chronic conditions in hope that they will recover. Live-in care often supports the care plan of a doctor or physical therapist. Our caregivers can help with preparing meals, medication reminders, mobility assistance and getting to follow-up appointments. Adjusting to new physical or cognitive limitations due to illness, injury or age is a long-term process. Our caregivers can be there for support every step of the way.
Hospice care is not focused on recovery. This type of care is typically is for those who have less than six months to live and only aims to make those months as comfortable as possible.
Live-In Care Meets More Than Physical Needs
Yes, physical needs are at the forefront of our in-home care services and will be monitored; however, they are not the only needs that your loved one has. Our compassionate caregivers can provide the companionship, conversation and emotional support your loved one needs to truly thrive at home.
Loss of physical or mental abilities is a difficult and often scary adjustment for seniors. Simply taking their medications and completing physical therapy as prescribed does not ensure complete wellness. Our caregivers will help keep your loved one engaged, active and content. Preventing isolation and loneliness can be incredibly beneficial for aging adults, especially those who are dealing with other changes and challenges. A companion caregiver can offer regularity, routine and support.
Visiting Angels McKinney Keeps Families Involved
When it comes to live-in home care, Visiting Angels McKinney keeps families involved. If you live near your loved one in Allen, Prosper, Frisco or McKinney areas, we encourage you to stop by your loved one's home and visit as normal. Our caregivers are there to provide the daily living assistance your loved one needs so you can focus on spending quality time together. Unlike nursing homes or assisted living facilities, there are no visiting hours. Your senior loved one can enjoy remaining in the comfort of their home while receiving the care they need.
If you wish to learn more about live-in care services available to seniors in Allen from Visiting Angels McKinney, contact us or call us at 214-833-0371 to schedule a free in-home assessment.

Serving McKinney, Allen, Frisco, Prosper and Other Communities in Collin County, TX
Visiting Angels
MCKINNEY, TX
4500 Eldorado Pkwy #1500
McKinney, TX 75070
Phone: 214-833-0371
Fax: 469-519-7897
021334