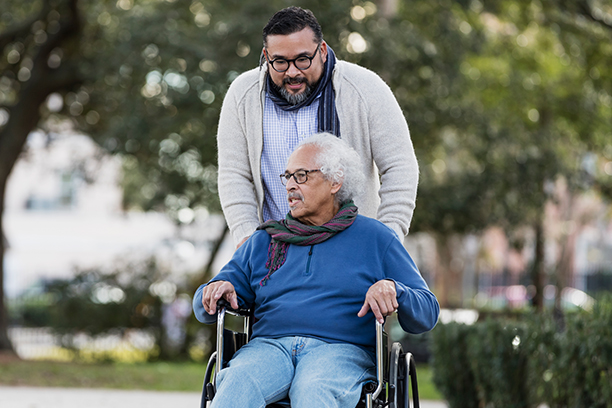 Long-Term Care for Seniors in McKinney, Allen, Frisco, Prosper and Throughout Collin County, TX
Long-term care insurance is the best and easiest way to pay for long-term home care services in McKinney, Allen, Prosper, Frisco and surrounding areas in Collin County, TX
Would your loved one prefer to age at home? If so, they are not the only one. In fact, studies have shown that most seniors wish to spend their golden years at home, and not move to a nursing home or an assisted living facility. However, if your loved one has mobility issues or struggles with a chronic condition, they might need long-term senior care in order to maintain their independence. With Visiting Angels McKinney, you can rest assured that your parent will receive the level of care they need, right at home where they feel safe, happy and comfortable.
If your parent could benefit from long-term in-home care, you are probably wondering how you will be able to afford it. Not to worry, at Visiting Angels McKinney we are able to accept a wide variety of payments. However, over the years we have realized that the most convenient and reliable way to pay for this type of care is long-term care insurance. Therefore, if your parent needs long-term senior care or they will require it in the near future, it is recommendable that you discuss options with them.
What is Long-Term Care Insurance?
Although a lot of people use long-term care insurance to pay for the care provided in a nursing home, this type of insurance covers so much more. Older adults with illnesses, long-term health conditions, permanent disability or terminal illnesses could greatly benefit from it. Even if your loved one is no longer in their 60s, they could still sign up for long-term care insurance.
How Does This Type of Insurance Policy Help Seniors in McKinney and Surrounding Areas Pay for Home Care Services?
A lot of seniors require assistance with everyday tasks. However, most of them need help with bathing, dressing, grooming, toileting and feeding. Unfortunately, these services are not covered by Medicare plans, while Medicaid only covers expenses in certain cases. This is one of the reasons why signing up for long-term care insurance might be the best way to pay for home care services.
Does your loved one require long-term home care services? If this is the care, please contact our office in McKinney, TX to learn about our services and schedule an in-home visit to speak to our care coordinators in person. We are looking forward to your call!
Serving McKinney, Allen, Frisco, Prosper and Communities in Collin County, Texas
Visiting Angels MCKINNEY, TEXAS
4500 Eldorado Pkwy #1500
McKinney, TX 75070
Phone: 214-491-1999