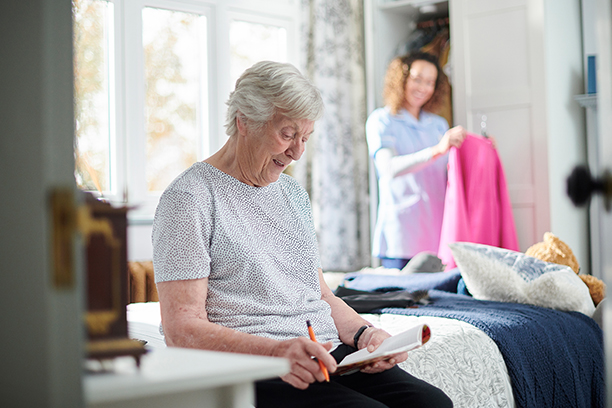 Meal Preparation and Planning for Seniors in and Near McKinney, TX
At Visiting Angels McKinney, our in-home elder care services have included helping seniors in McKinney, Allen, Frisco, Prosper and surrounding areas in Collin County, TX with meal preparation and planning since 2008. Our caregivers can help your loved one cook delicious and nutritious meals and snacks so they can eat properly and keep up their strength.
Call 214-491-1999 to learn more.
Why Meal Preparation Assistance is So Important for Seniors in McKinney and Surrounding Areas
Many seniors, even those who are overweight, are often malnourished. This is caused by either eating too much or eating too little and overall eating the wrong things. The alarming thing about this information is the fact that malnourishment can worsen or even cause many chronic conditions faced by seniors. That is why proper nutrition is so important for elderly adults.
Seniors are simply not as strong as they used to be. Although it may sound very odd, but this is one of the major reasons many end up malnourished. As we get older, we begin losing our strength over time and in doing so are less and less able to prepare quality, healthy meals for ourselves.
As your loved one ages, they may begin opting for meals that are highly processed and unhealthy for one reason only: they are easy and readily available everywhere. All you have to do is take out a TV dinner from the freezer, pop it into the microwave and you have a meal in a couple of minutes.
However, habits of this sort can be extremely harmful for seniors who are already of frail health. As you may already know, processed foods are full of salt, sodium and many unnatural preservatives that are very hard on our bodies.
The good news is that with meal preparation and planning assistance from Visiting Angels McKinney, your loved one's caregiver can help them get quality ingredients and prepare healthy meals they will enjoy.
What's Included in Meal Preparation from Visiting Angels McKinney?
Here at Visiting Angels McKinney, we have made it our mission to help older adults live quality lives in their golden years. This means offering a wide range of personal care and companion care services. Meal preparation is part of our home care services and it has benefited thousands of seniors across Collin County, including McKinney, Allen, Prosper and Frisco. It has also given their family members peace of mind knowing they are being looked after and staying healthy. Our quality in-home senior care services can do this for your loved one, as well.
Our caregivers can take care of all aspects of quality meal preparation and planning, including:
Going to the grocery store and farmers market to get ingredients


Preparing meals and snacks that your loved one can access quickly when they are hungry


Helping your loved one follow doctor's orders pertaining to their eating habits


Providing feeding assistance for seniors with Parkinson's and similar conditions that affect fine motor skills


Fluid intake reminders
With meal planning and preparation from Visiting Angels McKinney, your loved one can start on the right path to a better quality of life.
To learn more about meal preparation and our other in-home senior care services, contact our McKinney, TX office today!


Serving McKinney, Allen, Frisco, Prosper and Other Communities in Collin County, TX
Visiting Angels
MCKINNEY, TX
4500 Eldorado Pkwy #1500
McKinney, TX 75070
Phone: 214-491-1999
Fax: 469-519-7897
021334