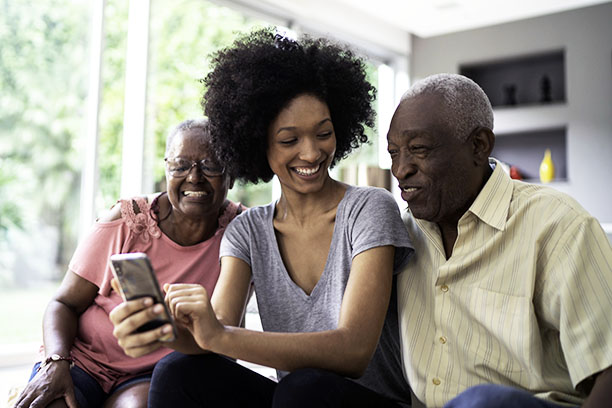 Our Social Care Program Helps McKinney-Area Seniors Stay Connected
At Visiting Angels McKinney, we know that taking a holistic approach to elderly care is essential to its success. This means that we care for your loved one's physical, mental, and social needs through personalized care. Our in-home caregivers prioritize the mental and social needs of seniors and encourages them to stay connected with the outside world through the Social Care program.
Our goal is to help seniors in McKinney, Allen, Frisco, Prosper and throughout Collin County, TX, stay in touch with those they care about despite age-related mobility issues that can make companionship difficult.
Call 214-491-1999 to learn more about our elderly care services today!
How Do Seniors in McKinney and Surrounding Areas Benefit from Social Media?
Taking advantage of our Social Care program will benefit your loved one. Studies show that the use of technology - particularly the internet - can reduce the symptoms of depression among the elderly by as much as 20 percent.* It can also help improve cognition and working memory as online browsing has shown to provide brain stimulation in seniors.**
Companion care is just one of the elderly care services our in-home caregivers can provide. Ensuring your loved one's health, safety, and comfort at home is our priority. This may include personal hygiene, feeding assistance, light housekeeping, or medication reminders. But in order for our services to be the best, we must also consider the social, mental and emotional needs of our senior clients as well.
How Our Elderly Care Services Help Seniors in Collin County Stay Connected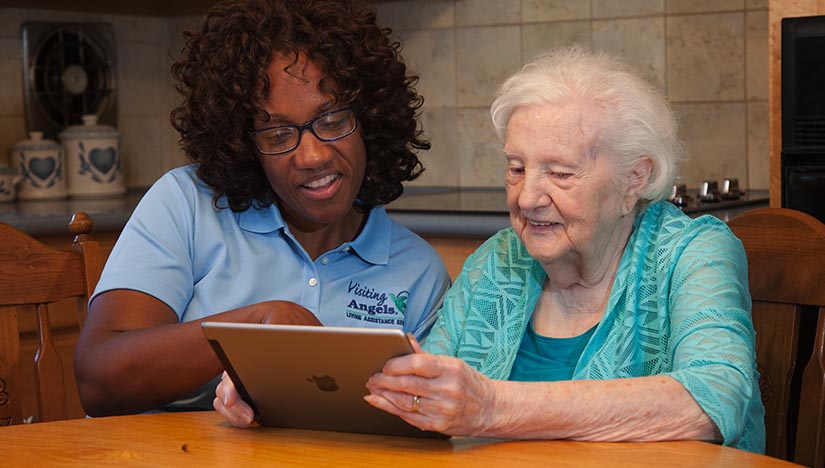 Many senior adults have limited mobility, are unable to drive or simply prefer to spend their days at home. This may limit their socialization with other people, causing feelings of isolation, loneliness and even depression. Elderly care services from Visiting Angels McKinney aim to combat these risks through two types of social care: at home and in the community.
Social Care at Home
Modern technology and social networking websites have made staying connected to far-away loved ones easier than ever. For many of us, it is almost second nature to post photos online, share life updates through email, or video chat with friends. Many families try to include senior loved ones by gifting them the technology to participate but using these devices independently can be confusing.
Through the Social Care program, our caregivers can help your loved one log-in to existing social profiles, view photos and videos or make phone calls and video chats. Caregivers can also queue up favorite movies and music through streaming services or play games and puzzles on a tablet.
Social Care in the Community
If your loved one wishes to engage with peers in person, our caregivers can provide transportation and accompaniment to appointments, the library, senior centers, concerts, crafts and more. Our caregivers can drive, help your loved one in and out of the care, and monitor them during activities. Getting out of the house can be a nice change of pace for an otherwise homebound senior.
If you'd like to learn more about our Social Care program and other elderly care services, please contact Visiting Angels McKinney today!


* Washington, D.C. based Phoenix Center
** Journal Cyberpsychology, Behavior, and Social Networking
Serving McKinney, Allen, Frisco, Prosper and Other Communities in Collin County, TX
Visiting Angels
MCKINNEY, TX
4500 Eldorado Pkwy #1500
McKinney, TX 75070
Phone: 214-491-1999
Fax: 469-519-7897
021334