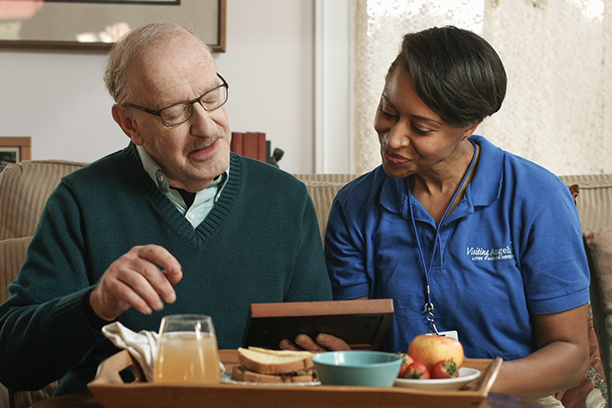 Managing Sundowning Syndrome for Seniors in McKinney, Allen, Frisco, Prosper and Throughout Collin County, TX
Visiting Angels caregivers help seniors manage the many symptoms of dementia and Alzheimer's disease in Allen, Frisco, Prosper, McKinney and surrounding areas in Collin County, TX
If you have been designated as the primary caregiver to your loved one with Alzheimer's or dementia, then you may have experienced Sundowning Syndrome. This is a condition that is often marked with symptoms that occur in the evening, such as confusion, agitation or anger, memory loss or wandering. This syndrome is known to affect about 20 percent of seniors who have been diagnosed with Alzheimer's or other forms of dementia. Helping your loved one remain calm and comfortable while managing these symptoms is something that qualified caregivers from Visiting Angels can help with.
Recognizing the Symptoms
When Sundowning Syndrome - frequently called just 'sundowning' - occurs, some of the symptoms that may be experienced include:
Rapid changes in mood
Crying or intense fear
Stubbornness
Agitation or anger
Restlessness
There is not one reason why these symptoms occur, but because the symptoms present themselves most intensely in the evening, this group of symptoms is called Sundowning. Your loved one may be overly tired by this time of day, exacerbating those symptoms of confusion and frustration that they face regularly throughout the day. Shadows and changing light that comes as the sun set may also play some role in the presentation of symptoms. If your loved one suffers from low vision or hearing, they may become agitated, afraid or easily frightened as a result.
While it may not be clear to medical professionals why sundowning occurs, there are ways that family members and professional caregivers can help seniors manage these symptoms at home.
Best Ways to Manage Sundowning
Establish a routine and stick to it.
Routines can eliminate the element of surprise and allow your loved one to overcome any confusion or anxiety associated with surprises in their day
Plan out activities that will take place.
Individuals who experience Sundowning will benefit from activities throughout the day. Knowing that Mom or Dad may be more agitated or tired in the evenings, schedule appointments, outings, and activities during the daytime. Not only will this allow them to participate in things they enjoy, but it may also provide enough activity to promote better sleep at night.
Watch what your loved one eats.
Limit caffeine and sugar intake, especially in the evenings. Talk with your loved one's doctor to create a nutritional plan that ensures they are getting enough of the right nutrients.
Shadows and darkness may cause a senior experiencing sundowning to feel afraid and confused. Leave a light on for them to make their surroundings more clear. Well-lit hallways and bathrooms can also prevent falls and injury if your loved one is prone to night-time wandering.
Get Help From Visiting Angels McKinney
If your loved one could benefit from evening,overnight, or 24-hour home care, Visiting Angels can help. We're experienced in providing professional, compassionate, and patient in-home care for seniors with Alzheimer's, Parkinson's, and other forms of dementia.
If you would like to learn more about how Visiting Angels can help your loved one, please call our McKinney, TX office today!
Serving McKinney, Allen, Frisco, Prosper and Other Communities in Collin County, TX
Visiting Angels
MCKINNEY, TX
4500 Eldorado Pkwy #1500
McKinney, TX 75070
Phone: 214-833-0371
Fax: 469-519-7897
021334