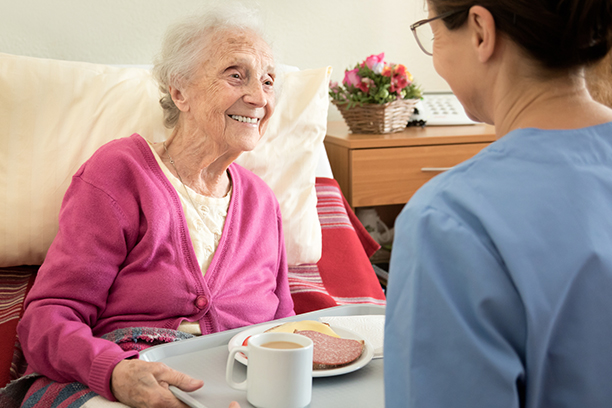 Certified Palliative Care from Visiting Angels in Melbourne, FL
The Certified Palliative Care Program from Visiting Angels provides comprehensive care and support for seniors in Melbourne, FL
The purpose of palliative care is to improve one's overall well-being and quality of life by focusing on their physical, emotional, social, and spiritual needs. The tailor-made program goes well beyond what most people think of when they hear this term.
Many people mix or use the terms palliative and hospice care interchangeably. However, these are traditionally thought of as different types of care within the caregiving community.
Palliative and hospice care do have many similarities. In their essence, both aim to relieve discomfort and improve quality of life. Now, here's the difference. While the former is typically provided to those nearing the end of life, the latter can be offered to virtually anyone who wishes to improve their well-being, regardless of life expectancy.
At Visiting Angels Melbourne, we base our caregiving approach on the traditional model of palliative care. Our mission is to enrich the quality of life of our care recipients on all levels through personalized, compassionate care and assistance.
This program is offered through our Life Care Navigation program – a collection of customized home care solutions for elderly adults. End of life care is also included in Life Care Navigation – a service designed to provide seniors and their families with comforting care and assistance during the end of life transition.
Our network of independent caregivers are all trained to provide supportive, soothing, comforting care and approach every caregiving situation with a holistic mindset. Our referred caregivers are on a mission of restoring hope and assisting with healing. To achieve this, we focus on a wider range of care needs, including the physical, emotional, social and spiritual needs of those in our care.
Getting Started with Visiting Angels
If you have a senior loved one in need of our services, your family will find the level of care and dedication you search for Mom or Dad though Visiting Angels Melbourne. We will be more than happy to answer any questions you may have and coordinate a meeting with one of our care directors in your loved one's home. We offer customizable care plans, affordable hourly rates, a compassionate, client-centered approach, and the ability to find the caregiver that's right for your loved one through our referral network of senior care professionals.
To learn more about our palliative care services or schedule a free in-home assessment, please call our Melbourne, FL office today. We look forward to working with you!
Serving Viera / Suntree, Melbourne, Palm Bay and Beaches
Visiting Angels MELBOURNE, FLORIDA
2351 W Eau Gallie Blvd #3
Melbourne, FL 32935
Phone: 321-953-8730