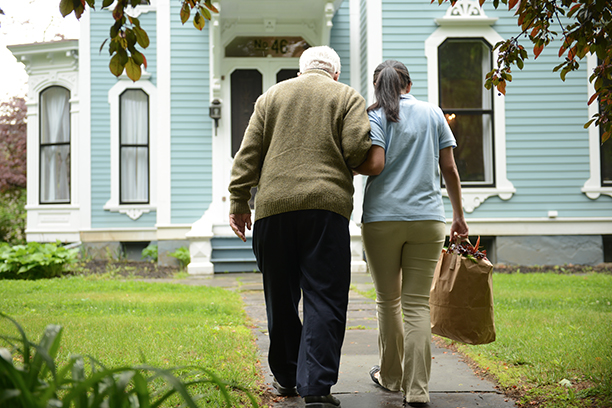 Long-distance At Home Care Providers for Seniors in Melbourne, FL
Our at home care providers work with families in Melbourne, FL to provide quality care for senior loved ones—even those who live far away
Many family members decide to become primary caregivers of their loved ones. However, when you live far from your parent, this might not be possible. However, if your loved one needs additional assistance with everyday tasks, consider our long-distance senior care options. In case your senior lives in another city or even state, we will help you coordinate long-distance caregiving through your parent's local Visiting Angels office. Our services are designed to offer seniors support they need in order to maintain a desired quality of life while keeping their loved ones in the loop every step of the way.
We Help You Find Quality At Home Care Providers
These days it is not unusual for family members to live far from each other. Many Americans move to another city or state in order to pursue career opportunities or due to personal circumstances. On the other hand, when they reach their golden years many seniors decide to relocate to warmer climates.
Here at Visiting Angels, we help families overcome those distances and help them find top-quality at home care providers for their loved ones who live far away from them. If your parent requires long-distance caregiving, here are several ways we can help:
We will provide you with detailed information about our services via phone or email and recommendations for getting started with in-home senior care
We will visit your loved one in their home and conduct a detailed care consultation. We will also talk to the family member who is responsible for coordinating care over the phone and consult with them
We will match your loved one with a professional who possesses skills, knowledge and experience which are ideally suited to your parent's needs
We will always keep in you in the loop so you can have peace of mind and notify you the moment we notice changes in your senior's health. Visiting Angels will also provide regular updates via phone or email and notify you about your loved one's physical, cognitive, and emotional well-being
Our at home care providers will perform regular drop-in visits and check-in calls to ensure your loved one is safe and healthy. In case of an emergency, you can always call our after-hours line and reach our staff members
If you live far away from your elderly parent or relative, consider our long-distance caregiving services. Contact us today and learn more about our senior care solutions in Melbourne, FL.
Serving Viera / Suntree, Melbourne, Palm Bay and Beaches
Visiting Angels MELBOURNE, FLORIDA
2351 W Eau Gallie Blvd #3
Melbourne, FL 32935
Phone: 321-953-8730