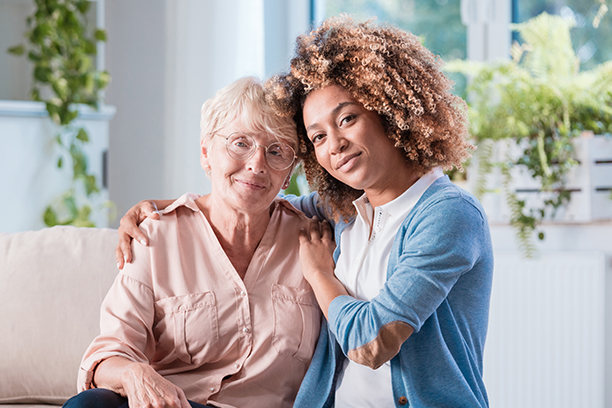 Transitional Elderly Home Care Services in Melbourne, FL
With transitional elderly home care services from Visiting Angels, your loved one in Melbourne, FL can safely return home from a hospital stay thanks to the assistance of our independent caregivers
At Visiting Angels Melbourne, we offer a specialized program that is designed to help seniors during the hospital-to-home transition following an illness, injury or surgery. This program, known as Ready-Set-Go Home, helps older adults successfully resume their recovery at home and regain their independence in a safe, gradual way. Another benefit of Ready-Set-Go Home is that it is created to prevent hospital readmission, which is a serious concern for seniors and can lead to additional health issues and the decline or loss of independence.
While many families choose to provide transitional care, it is important to be aware that seniors require a lot of support after being discharged from a hospital. Plus, statistics show that 20 percent of discharged seniors end up back in the hospital within just one month of discharge.
We can minimize the risk of hospital readmission through our Ready-Set-Go Home program that provides our clients with personalized elderly home care services and dedicated, experienced caregivers from our network of independent home care professionals. Our services start while your loved one is still in the hospital, prior to being discharged. We will assist you with coordinating your loved one's return home, help them throughout the transition and offer our support for as long as they may need us.
How We Reduce Hospital Readmissions
To help seniors get back on their feet as soon as possible and minimize the risk of hospital readmissions, we refer caregivers who assist our clients based on the recommendations provided by their medical teams and in accordance with the family's wishes.
Our Ready-Set-Go Home program employs a 3-prong approach:
At the hospital – We start providing our services while your loved one is still in the hospital. Our referred caregivers visit them on a regular basis and provide your family with guidance through the discharge process.
At your loved one's home – When your loved one returns home, we provide them with elderly home care services and ensure they are comfortable throughout recovery. We look out for any changes in behavior, provide medication management, and offer compassion and conversation. We help family caregivers by assisting them with whatever activities needed too.
At the Visiting Angels office – We support both your family and referred caregivers from our office in Melbourne, FL. We identify if your loved one has a high chance of readmission and make sure to reduce it to a minimum. We provide reminders about medications and appointments and help with coordinating medication, equipment and food deliveries.
If you would like to learn more about our elderly home care services, please call our Melbourne, FL office and we will schedule your free consultation with a member of our team. We're looking forward to working with you!
Serving Viera / Suntree, Melbourne, Palm Bay and Beaches
Visiting Angels MELBOURNE, FLORIDA
2351 W Eau Gallie Blvd #3
Melbourne, FL 32935
Phone: 321-953-8730