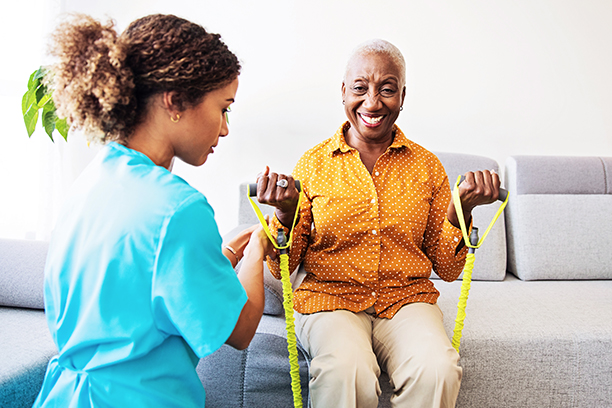 Home Care Pulse Press Release
March 19, 2013
FOR IMMEDIATE RELEASE
Media Contact: Anthony Acevedo, Executive Director
Phone: 305-728-3153
Email: aacevedo@visitingangels.com
Visiting Angels in Miami Awarded 2013 "Leader in Excellence"
Miami, FL. – Visiting Angels Miami announced today that it received this year's distinguished "Leader in Excellence" Award by Home Care Pulse, the leading firm in quality assurance for private duty home care. The "Leader in Excellence" Award was awarded to less than 50 private duty home care agencies across the country, who consistently ranked among the highest in 10 or more out of 12 quality metrics assessed by Home Care Pulse. As a "Leader in Excellence," Visiting Angels Miami represents a top performer in the national home care industry.
This accomplishment also shows Visiting Angels Miami long-term dedication to excellent care and quality improvement. To qualify for this award, 10% of Visiting Angels clients were polled each month by Home Care Pulse to rate the care they received through personal phone interviews. These client satisfaction ratings were factored into Visiting Angels overall ranking over a 12-month period. Using feedback from clients and employees, as well as quality benchmarks from Home Care Pulse, the Visiting Angels management team set goals to reach the highest level of excellence possible.
"Customer service is always our priorty," said Mirian Montano, Administrator of Visiting Angels Miami.
Visiting Angels Miami also earned the "Best of Home Care" designation from Home Care Pulse in 2013 which acts as a guide to help consumers choose the best home care agency in their area. "Leaders in Excellence" are the top-performing "Best of Home Care" agencies in the nation. Performance is evaluated based on factors such as staff training, communication, caregiver performance, caregiver morale, response to problems, likeliness to recommend, and overall quality care.
"Our goal at Home Care Pulse is to help agencies reach their goals and deliver the best home care possible, and so it's very rewarding to us to recognize Visiting Angels Miami as a 'Leader in Excellence.' We've been impressed by their commitment to their clients and caregivers, as well as the quality of the overall care they provide. They really stand out in their market as a top home care provider," commented Aaron Marcum, President of Home Care Pulse.
To find out more about Visiting Angels Miami commitment to excellence, please visit www.visitingangels.com/miami or call 305-728-3153
About Visiting Angels Miami
Visiting Angels Miami was founded in 2005….and its mission is to be "America's Choice in Homecare."
About Home Care Pulse
Home Care Pulse was founded in 2008 and specializes in research and quality assurance for the private duty home care industry. Their primary focus is measuring client and employee satisfaction for home care agencies. Annually, Home Care Pulse conducts the largest and most trusted national study on the private duty home care industry. Home Care Pulse uses research and benchmarking to help agencies improve quality, increase client satisfaction, drive employee loyalty, and grow their businesses. For more information, visit www.homecarepulse.com.
Serving Miami-Dade County, FL Metro Area
Visiting Angels MIAMI, FLORIDA
8501 SW 124th Ave #310A
Miami, FL 33183
Phone: 305-728-3153
FL Lic: 30211346