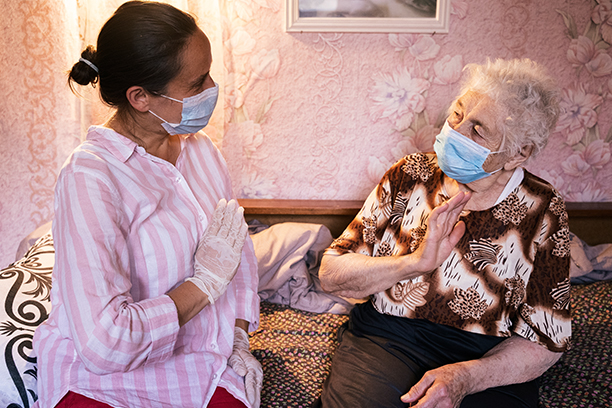 Alzheimer's FAQs and How Alzheimers Care From Visiting Angels of North Miami, FL Can Help
5.8 million Americans are currently living with Alzheimer's, according to the Alzheimer's Association. If you or someone you love is one of the millions that have been diagnosed, you probably have a ton of questions that you would like to ask. The Alzheimers care professionals at Visiting Angels of North Miami are here to answer some of the most common questions surrounding Alzheimer's.
What is the difference between dementia and Alzheimer's?
Dementia is a wide-ranging term that describes brain disorders characterized by memory loss. Alzheimer's is the most common type of dementia. As a result, all those who have Alzheimer's have dementia. But those who have dementia, don't necessarily have Alzheimer's.
What are the most common symptoms of Alzheimer's?
The most common symptoms of Alzheimer's include:
Trouble solving simple problems

Short-term and long-term memory loss

Forgotten or mixed up words

Confusion about time, place, names, or identities of people

Depressed, irritable, or irrational behavior
Does Alzheimer's have a cure?
Currently, there is no cure for Alzheimer's disease. Although, some treatments and practices can slow the progression of the disease and delay its initial symptoms.
For example, doctors recommend that those who are at risk for Alzheimer's focus on making healthy lifestyle choices to reduce their risk. These decisions could include improving your sleeping habits, decreasing your stress, or increasing the amount of omega-3s in your diet.
What are my options for Alzheimer's care?
Many of those with early to mid-stage Alzheimer's are cared for by friends and family. Although, as the disease begins to grow and evolve, the need for professional senior care continues to grow.
At Visiting Angels of North Miami, we offer Alzheimer's care that helps seniors remain as comfortable and safe as possible while living in familiar surroundings. With the help of our Alzheimers care, your loved one can age in place and avoid being moved to an assisted living facility. For others with Alzheimer's, being moved to an assisted living facility can be very traumatic.
We offer personalized Alzheimers care that caters to your loved one's unique health and wellness needs. This is the opposite of the services provided by an assisted living facility, which allocate their services to the masses. Our Alzheimer's home care services are specifically provided by caregivers who are qualified to work with clients who have this illness.
Serving Miami-Dade County Metro Area, Aventura, Miami Beach, and Surrounding Areas
Visiting Angels
NORTH MIAMI, FLORIDA
11900 Biscayne Blvd #104
North Miami, FL 33181
Phone: 305-505-2294
Fax: 305-960-7684
NR30211517