Quality Home Care in Gloucester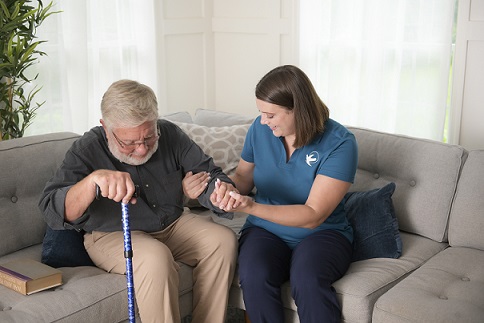 When a loved one is struggling to live at home safely or comfortably, having professional care can be incredibly impactful. For your loved one, it means everyday challenges are alleviated, making it easier to age in place. Our home care agency is here to help. At Visiting Angels® Northern Neck-Middle Peninsula, we offer flexible and comprehensive caregiver services for seniors in Gloucester.
With our agency, it's seamless for your loved one to remain at home, enjoying the same routines and habits they've had for years. Whether they need advanced support or occasional help, we personalize care options to suit their situation. For your family, we can keep you connected to your loved one and the care they receive, too. We make sure you have peace of mind when it comes to your family member's well-being.
Personalized Care for Gloucester Area Seniors
From a distance, home care can feel daunting to navigate. But our agency makes it easy and simple to get exceptional care for your loved one. Starting with a consultation, we'll get to know your family, discussing the level of support needed. From there, we can work with you to develop a detailed care plan with your loved one in mind.
You'll always have the opportunity to ask questions, get recommendations, or update care. We're committed to providing clients with a standard of support you can always count on. It's important to us that your family gets the chance to weigh in on care decisions when needed.
For seniors in Gloucester, our agency can offer a wide range of support, including:
Hourly, part-time, or full-time care
Help with personal tasks like grooming
Housework, meal preparation, and running errands
Support for those with Alzheimer's or other conditions
We know that the challenges of aging aren't just physical. Many seniors grapple with loneliness, confusion, and anxiety. Your loved one's caregiver is there during those times, alleviating difficult moments. With companionship and support, we help our clients make the most of their days, living with comfort and joy.
Schedule Your Free Home Care Consultation Today
At Visiting Angels Northern Neck-Middle Peninsula, we offer compassionate, flexible home care services across the region. That includes:
Gloucester
Heathsville
Saluda
Wicomico Church
Deltaville
Urbanna
Reedville
Merry Point
Kilmarnock
Burgess
Lancaster
Warsaw
Essex County
Lancaster County
Gloucester County
Northumberland County
Richmond County
Middlesex County
And throughout the surrounding area
Let's get your loved one the support they need. To get started with home care services in Gloucester, just speak to Visiting Angels Northern Neck-Middle Peninsula.