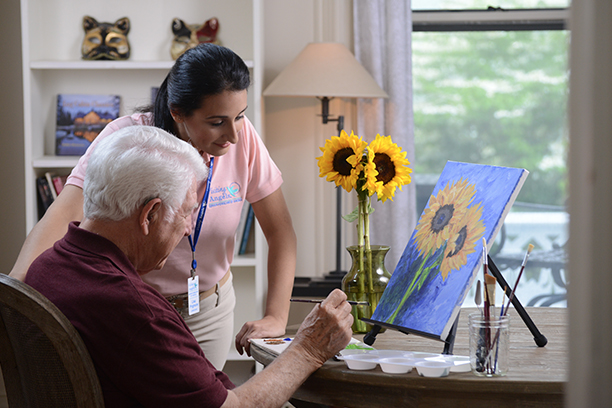 Drum Circles with Visiting Angels Mid Eastern Shore, MD
How many of us are continuously surprised that we can remember every word to our favorite song from childhood, but we have trouble remembering where we put our keys, or the names of our children?
Music is not just an enjoyable pastime, is it powerful! For those with Alzheimer's, and other forms of Dementia, the recognition of music and the ability to play an instrument is preserved longer in the brain than many other common functions like language.
Visiting Angels of the Eastern Shore of Maryland is blessed to have their very own professional musician on staff, Brooke Christensen, whose drum circle program has been eagerly received by many senior centers, assisted living facilities and other senior focused communities.
What is a drum circle?
Follow her on Facebook for the most updated list of drum circles in your area
If you would like for Brooke to visit a group in your community please call any of our offices or send her an email at bchristensen@visitingangels.com
Serving Easton, Salisbury, St. Michaels, Chestertown, Kent Island and the Eastern Shore
Visiting Angels
MID EASTERN SHORE
221 Glenwood Ave
Easton, MD 21601
Phone: 443-746-0494
Fax: 443-552-0948