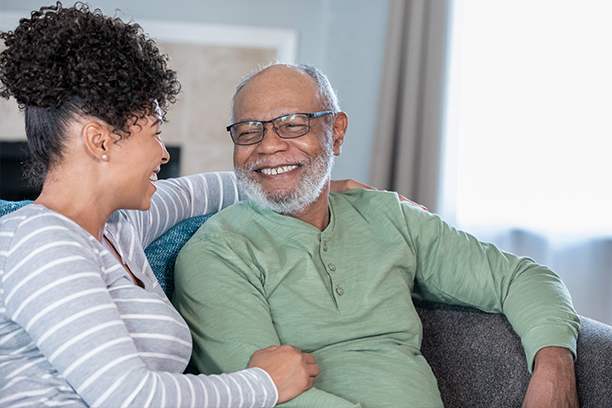 About Visiting Angels
John Paul and Maggie opened their Visiting Angels franchise in January of 2012 after each pursing varied business careers. John Paul, a graduate from the University of Notre Dame, had the opportunity to work and learn with St. Joseph's Regional Medical Center and with Press Ganey Associates. Here is where he grew in his desire to be a part of the healthcare sector, while seeking out avenues to find ways of improving the care given to those in need. Maggie, a graduate from Ashland University in Ohio, has maintained a personal business as commissioned artists/painter, while working with a variety of businesses on a part-time schedule to branch out from behind the canvas and interact with the needs of people in the community. Both John Paul and Maggie decided to move back to their beloved home town of Minster and serve their local surrounding counties. They are excited to give back to the men and women who not only gave so much then, but are still giving to the all who are around them.
Maggie and John Paul experienced their grandmother, Jean McKenzie, come into their parents' home to receive the 24 hour care she needed. When no one was able to help stay with Jean, "we were surprised at how important the right caregiver became when we thought of leaving Jean to their care and love." The question was "can this caregiver respect, care, and love our grandmother the way we would if we could stay, while also respecting us as a family." John Paul and Maggie understand the importance of feeling comfortable and safe when leaving a caregiver with the one you love so dearly. Visiting Angels wants to be a resource of excellent caregivers, Angels, who can come as an unfamiliar face but will leave as a new friend. They hope families, with the many demands this current life has, can call at any time when they need an Angel to come and take watch over their loved one during the times they cannot be there.
John Paul and Maggie are determined to support all those they serve, who are themselves Angels can continue to live a full, healthy life with the family and friends they love and cherish.
Serving Allen, Auglaize, Shelby and Miami Counties
Visiting Angels MIDWEST OHIO
156 East Fourth St
Minster, OH 45865
Phone: 419-501-2323
toll free 888-313-9990