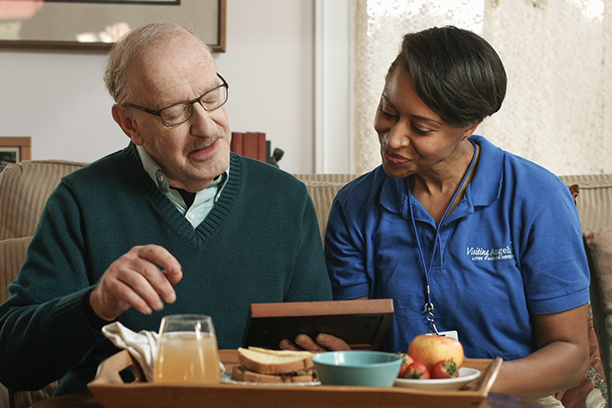 How Caregiving Works
We understand that it is difficult to allow someone to come into your home or a family member's home. How do you help someone keep their independence yet care for them in a way that enables them to be safe? How do you care for someone for many hours of the day, yet respecting the fact it is their home? And what about personalities?
These are all questions you and your families may be asking. We have been in homes and have dealt with situations, schedules, personalities and needs. We take the time to answer all of your questions as we understand that this is a new process you will be going through.
Although most home care requests are usually planned and families need the time to research and evaluate many solutions, Visiting Angels is able to respond quickly to those families or care recipients that require a faster response in situations as a result of an emergency. We can respond to requests for in hospital assistance, assisted living facility bedside care or to someone who is being discharged from the hospital or rehabilitation.
We are also available to assist with major transitions such as assisted living to a family member's home, or into a family member's home as part of a relocation.
We can ease your burden and help you by:
Consulting with you about scheduling, costs, care at any time of the day.
Scheduling an "in home" visit at your convenience.
Creating a personalized care plan.
Coordinating a "caregiver meeting," at your convenience.
Adjusting care plan or routines as needed through monitoring and on going, consistent communication.
Serving Allen, Auglaize, Shelby and Miami Counties
Visiting Angels MIDWEST OHIO
156 East Fourth St
Minster, OH 45865
Phone: 419-501-2323
toll free 888-313-9990