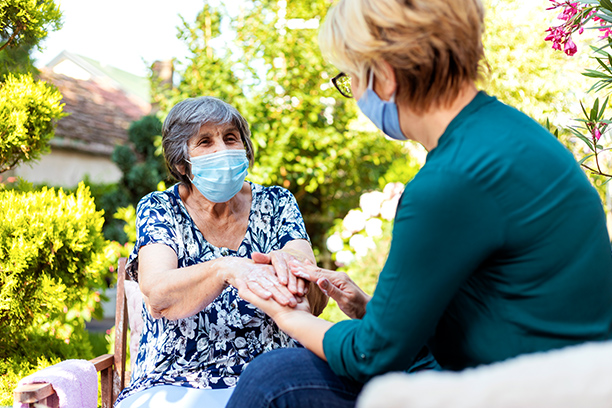 Respite Care in Minster
When you need to take a break from caregiving but want to ensure your loved one continues to receive high-quality care, respite care from care professionals in Minster is the answer. At Visiting Angels® Midwest Ohio, we know family caregivers need to schedule time away from their duties to preserve their well-being and engage in self-care. We are able to match families with care professionals who can deliver short-term services that offer family caregivers the guilt-free time off they need and deserve.
What is Respite Care?
Respite care consists of home care services delivered on a temporary basis. The main goal of these services is to allow family caregivers to spend time looking after their own needs and other priorities in their lives. With the ability to take a quick pause or longer vacation, family caregivers can avoid burnout and continue to maintain a positive and rewarding relationship with their loved ones.
However, these types of services aren't only beneficial for exhausted family caregivers. They also help seniors have the opportunity to engage with others and flex their social skills. Our coordinators pair care recipients with care professionals who suit their personalities and can establish a personal connection with them.
How Respite Care Helps Seniors in Minster
Are you wondering whether our services can meet your loved one's unique needs or accommodate their advanced care requirements? We customize our services to address the specific preferences and needs of each individual. It doesn't matter if your loved one just needs a helping hand or constant monitoring and supervision. We can match them with a care provider who is able to deliver the level of support they require to maintain their well-being at home.
Some of the services we offer for elderly adults in Minster include:
Respectful assistance with tasks related to personal care
Preparing meals and snacks and doing grocery shopping
Tidying up the house through light chores
Conversing with seniors and offering compassionate emotional support
Arranging the logistics of transportation to appointments
Getting Started with Respite Care
We encourage you to get started with care well before you reach the point of feeling burned out. The process is simple. Just reach out to our local agency, and we'll set up a free care consultation with your family.
Call Visiting Angels Midwest Ohio to book a respite care consultation in Minster, Botkins, Fort Laramie, Piqua, New Bremen, Pleasant Hill, Sidney, Tipp City, Troy, Wapakoneta, West Milton, or a community in the surrounding areas.
Serving Allen, Auglaize, Shelby and Miami Counties
Visiting Angels MIDWEST OHIO
156 East Fourth St
Minster, OH 45865
Phone: 419-501-2323
toll free 888-313-9990