Home Care Services in Milford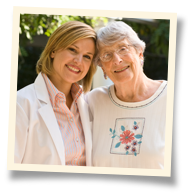 Home care services are an important part of aging in place for many older adults in Milford.
While home care can make a world of difference in the lives of seniors, the decision to hire home care isn't always easy. Many families spend months or even years debating whether or not to hire these services. As a result, seniors can spend this time without the support they need.
At Visiting Angels® Milford, we know how difficult this decision can be for you and your family. To make things easier, here are some tips to help you find the right answer.
Does My Loved One Need Home Care Services?
If you're considering home care for your mom, your dad, or another member of your family, there's a good chance the right choice is easier than you think.
In our experience, it is unfortunately common for families to wait longer than they should to hire home care services. On the other hand, it's rare that families hire these services too early. If you're thinking about caregiving services for a family member in the Milford area, that's a strong indication that your loved one will benefit from home care.
One important thing to keep in mind with in-home care is how easy it is to start small. Care visits can be only a few hours long, and you can start with only occasional visits. This can be valuable for seniors who are mostly independent, but who need a helping hand with weekly tasks like laundry or grocery shopping. If their care needs increase over time, you can start to schedule visits more frequently.
Another important consideration is respite care for family caregivers. If you provide unpaid care to your mom, your dad, or your spouse, you could be at risk of caregiver burnout. In these situations, it's important to practice self-care—both for your sake and for your loved one. Respite care visits can help alleviate the physical, mental, and emotional strain that make caregiver burnout a risk for so many family caregivers.
Care Consultations in Milford, MA
If you're still unsure whether it's the right time for home care services, we encourage you to contact Visiting Angels Milford for a free consultation. This will give you the chance to learn what care services for your loved one might look like, without any obligation to proceed. If you decide it's not the time to get started, you'll have the information you need for whenever the time is right.
Visiting Angels Milford offers free care consultations to seniors and families in the following areas:
Milford
Blackstone
Holliston
Hopkinton
Millville
Mendon
Northbridge
South Grafton
Upton
Uxbridge
Whitinsville
Surrounding areas
Call us today to book a free consultation and learn more about home care services from Visiting Angels Milford!