In Home Care in Milford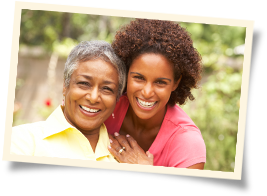 It's been a trying year, and it's resulted in an unprecedented wave of loneliness for people of all ages. Social isolation can be incredibly unhealthy for prolonged periods of time, and it can have a particularly concerning effect on seniors. With in home care services, Visiting Angels® Milford makes it a priority to provide companionship and compassion to our clients. We can help clients weather periods of loneliness or isolation with comfort and joy.
How does loneliness affect seniors—and how can we help? Let's review some common effects for aging adults.
How Loneliness May Affect Your Loved One
These days, the health effects of loneliness are well-documented. It can affect physical and mental health for individuals of every age. But it's particularly harmful for seniors:
Increased stress levels. For seniors living alone, it's easier to get trapped in anxious spirals, negative thoughts, and self-doubt. All of these things can contribute to higher blood pressure and greater stress levels. Having social contact from a trusted caregiver can reduce these feelings. We also encourage clients to pursue favorite activities and hobbies, which can be great outlets for stress.
Greater cognitive decline. When seniors are cut-off from others, it can precipitate confusion, disorientation, and an overall decline of cognitive faculties. We can help your loved one stay alert and present. Our in home care professionals engage clients in lively, friendly conversation. Crucially, if we notice any concerning signs with cognition, Visiting Angels Milford can let your family know, too.
Poor sleep quality. Loneliness is deeply linked to sleep habits. If your loved one is feeling depressed or anxious, they may be sleeping for unusually long or short periods of time. We make it easier for clients to connect with family and friends, either online or by driving them to social engagements. We can also accompany seniors on walks and encourage other physical activity which makes sleep easier.
Choosing In Home Care in Milford
With our in home care agency, you can schedule caregiver support as often as needed. We customize our approach to suit the needs of different clients in:
Milford
South Grafton
Whitinsville
Blackstone
Mendon
Hopkinton
Northbridge
Uxbridge
Holliston
Millville
Upton
And throughout the surrounding area
Our caregivers alleviate the many difficult physical and mental challenges of living at home alone. We help our clients flourish, providing companionship and ease to their days.
With regular in home care, we can offer essential social contact to clients. Get in touch with Visiting Angels Milford today to learn more about our services.