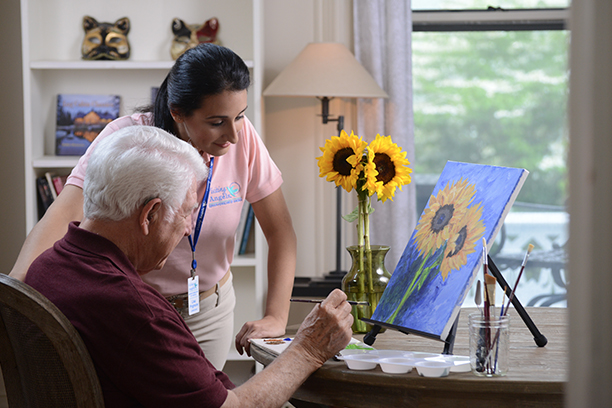 How We Assist With Aging in Place in Milwaukee 
When a loved one wants to live at home but is struggling with their normal routines, you may worry that aging in place is not a possibility for them. At Visiting Angels® Milwaukee, we're here to let families throughout the local community know seniors with all types of age-related needs and conditions can age in place. Through our in-home care services, we give elderly adults the compassionate, professional, and personalized support they require to extend their years at home and live the life they've envisioned for themselves in their golden years.
The Importance of Aging in Place
It's clear aging in place is important to elderly adults, and with good reason. Almost 90% of Americans over 65 have reported a preference for living at home as they age. After all, doing so means more independence, more flexibility, and the ability to remain in familiar surroundings tailored to their comfort.
When seniors leave their home environment, it can be incredibly distressing both mentally and emotionally. After spending years in one place, they may depend on the daily routines they've developed for their overall well-being. As a result, many seniors find a move away from home and into a senior care facility to be an anxiety-inducing experience.
In-Home Care vs. Assisted Living
In-home care comes with a number of benefits over assisted living. First, assisted living can cost tens of thousands of dollars per year, depending on the facility and its location. In-home care can be delivered for a fraction of the cost, allowing elderly adults to enjoy aging in place while feeling more secure about their financial future.
Assisted living may also come with drawbacks in the area of physical health. In shared living environments, illness can spread rapidly from resident to resident. Studies have found that elderly adults who are cared for at home often have more positive health outcomes on average than those in care facilities.
How We Help Families in Milwaukee
Our services help older adults remain at home safely and comfortably despite age-related issues. Each of our care recipients receives a personalized plan and is matched with a professional care provider based on their unique needs and preferences.
Learn more about how our services are making aging in place a reality for seniors in Milwaukee, Bayside, Fox Point, Greenfield, Hales Corners, New Berlin, Shorewood, Wauwatosa, Glendale, West Allis, Whitefish Bay, and nearby towns. Call Visiting Angels Milwaukee today for a free consultation.
Serving All of Milwaukee County
Visiting Angels
MILWAUKEE, WI
7635 W Bluemound Rd #1B
Milwaukee, WI 53213
Phone: 414-476-0025
Fax: 414-476-0347