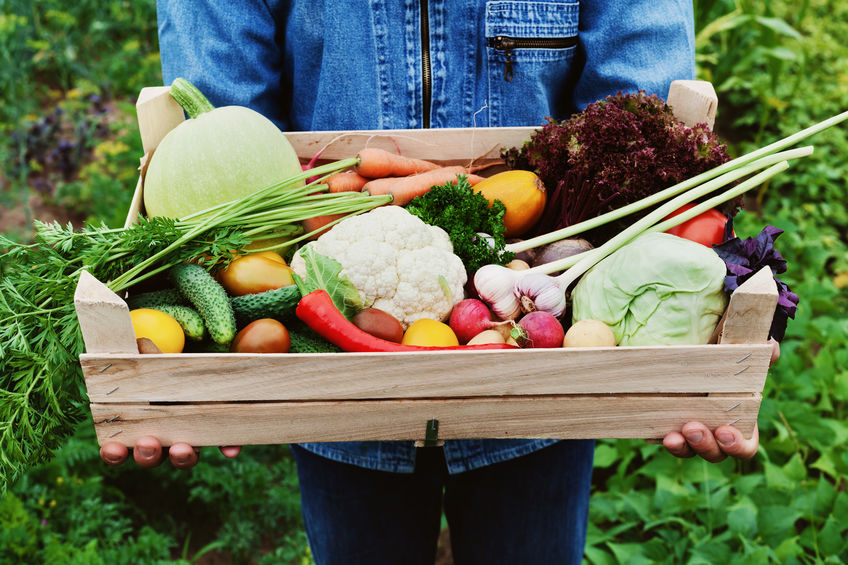 Healthy Meals Using Summer Produce
One of the best parts of summer is all the available fresh produce. And there's nothing better than enjoying a healthy, fulfilling meal packed with fresh summer produce. If you're interested in adding a warm-weather twist to some traditional dishes, try these healthy meals using summer produce.
Honey Mustard Chicken and Apples
Apples make a crisp and flavorful snack on their own, but they also make a tasty side dish for lean meats such as chicken. If you're looking to add some fruity flavors to your meat dish, try a honey mustard chicken and apples. In a bowl, whisk together ½ cup of apple cider, 1 ½ teaspoon of cornstarch, one tablespoon of honey, two tablespoons of Dijon mustard, and salt and pepper to your liking. Next, dust 1 pound of boneless, skinless check breast in flour. Once the chicken has a nice coating of flour, you'll want to brown the chicken in a large non-stick skillet. Brown one side for about 3-4 minutes, then flip the chicken over and add two peeled and thinly sliced Granny Smith apples to the skillet. Continue cooking the chicken until both sides are brown.
Once you've browned the chicken, add the cider mixture and ½ cup of chicken broth to the skillet. Turn the heat down to low, cover the skillet, and cook on a simmer until the chicken is tender. Remove the chicken and apples from the skillet. Then turn up the heat and simmer the sauce for a few minutes until it thickens. Pour the sauce over the chicken and apples and serve with white rice or quinoa.
Fish Tacos and Pineapple Salsa
If you're a fan of tacos, but looking to add some fresh flavors, try fish tacos with pineapple salsa. Start with fresh ripe pineapple and slice it into small chunks for the salsa. Next, add 3 cups of the pineapple to a mixing bowl and stir in one chopped bell pepper, ½ cup of chopped red onion, and ¼ cup of freshly chopped cilantro. Next, stir in 3 tablespoons of lime juice and salt to taste to complete the salsa. Set in the fridge and let sit while you make the fish.
For the fish, you'll want one pound of your favorite lean white fish, such as mahi-mahi or cod. First, season the fish on both sides with salt and pepper. Then in a small bowl, combine two tablespoons of canola oil, juice from one small lime, one clove of garlic, 1 ½ teaspoon of chili powder, one teaspoon of ground cumin and ½ teaspoon of paprika. Put the fish in a large plastic bag, add the oil mixture, and sit in the fridge for 20 to 30 minutes.
Once the fish is ready, cook the fish on the grill or a skillet, each side for about 4 minutes. Next, heat some tortillas and begin assembling your tacos. Start with a layer of fish, then top it off with the pineapple salsa. You can also add a light layer of cheese, lime juice, and fresh cilantro for additional flavoring.
Orzo Salad
Instead of a traditional lettuce and vegetable salad, try this Greek-inspired orzo salad. Start by cooking 1 ½ cups of orzo pasta, following the package instructions. Toss the cooked pasta with a bit of olive oil and set it aside to cool. Next, combine ¼ cup of olive oil, three tablespoons of red vinegar, one minced clove of garlic, 1/2teaspoon of dried oregano, one tablespoon of lemon juice, and ¼ teaspoon of Dijon mustard in a bowl. Then, combined the oil and vinegar mixture with the cooked orzo pasta in a large bowl. Add in two sliced cucumbers, 2 cups of halved cherry tomatoes, 1 cup of cooked chickpeas, 1/3 cup of thinly sliced red onion, and ½ cup of pitted olives. Sprinkle with some feta cheese and enjoy!
How Visiting Angels Can Help
If you or a loved one needs assistance in the kitchen, Visiting Angels Mobile, Alabama can help. Our team of caregivers can help seniors with everything from grocery shopping to preparing and cooking their meals. They're also available for light housekeeping, medication reminders, transportation, personal grooming, and more. Our Mobile office serves those in Mobile and the surrounding areas. If you'd like to learn more about our services, you can complete this form online or give us a call at 251.345.4100.