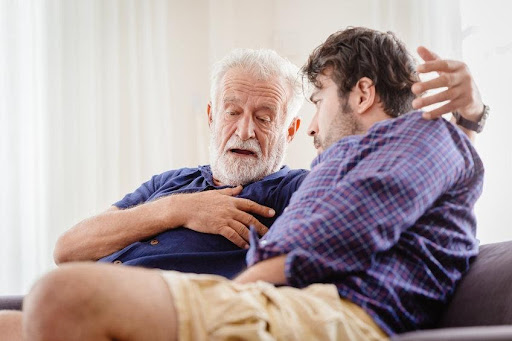 Tips for Sensitive Conversations with an Aging Loved One
As we watch our loved one's age, times will approach when we need to have sensitive conversations about their health and well-being. Instead of avoiding those conversations, lean into them and use them as an opportunity to build a stronger relationship with your loved one.
If you're unsure how to approach a sensitive conversation with your loved one, use these tips for some common discussions.
Talking About a Loved One's Health
Discussing one's health is a tricky conversation to start, even if there's nothing wrong to report. If you're concerned about your loved one's health, start the conversation by asking when they last visited the doctor and how the appointment went. If they don't want to share their experience, ask them more open-ended questions about how they're feeling or if they're on any new medications. You may not get a lot of information upfront but make these types of conversations a regular occurrence and let your loved ones know you're open to talking if they need it.
If your loved one hasn't visited the doctor in a while, don't shame them or tell them they must go. Instead, ask them questions to learn why they haven't visited a doctor. Maybe they don't understand the importance of regular checkups, or they're worried about realizing they're in poor health. Talk to them about their concerns and express your own feelings on why staying on top of their health is essential. Whatever they share with you, do your best to listen and show compassion.
If your loved one does share that they have a health condition, try not to go into a problem-solving mode right away. Let your loved ones talk and share the information and feelings they have. Then ask if they want assistance before helping them, so you don't overwhelm them. Also, remember it's not your responsibility to make them better. Let their doctor focus on their treatments, and you can focus on providing the mental or emotional support they tell you they need.
Talking About Healthy Habits
You may notice your loved one exhibits unhealthy habits that could contribute to poor health. These habits could include smoking, excessive alcohol use, poor diet, or lack of physical exercise. If you want to approach your loved one about their habit, do so with care. If you want them to quit a habit, like smoking or drinking, start a conversation with them expressing how the habit makes you feel and ask them questions about why they indulge in the habit and if they're interested in stopping. If they are interested in quitting, help them put an action plan together and seek treatment if necessary. If they're not interested in quitting, try to strike a compromise where they reduce their usage.
If you want them to change a habit, you can open a dialogue with your loved one to express your concern. After sharing your thoughts, make sure you're asking them questions and allowing them to share their feelings. Then, suggest ways the two of you can change the habit together. For example, if you want to change your loved one's eating habits, suggest cooking a healthy meal together. Or, if they need more physical activity, take them for a walk. Finding ways to change the habit together will ensure your loved one doesn't feel attacked or ashamed.
Talking About Caregiving
Deciding to hire a caregiver is a big decision, and it's something you should discuss with your loved one. Sometimes when we witness a loved one experiencing challenges in the home, we want to act fast and find help—but deciding to hire a caregiver without talking to your loved one first can lead to a negative caregiving experience.
If you notice your loved one may need help, start a conversation with them about what you've observed and how it makes you feel. Focus the start of the discussion on their challenges and your concern for their safety. Then ask your loved one what their experience is living without assistance. If your loved one admits they have trouble caring for themselves, ask them how they would feel about hiring a caregiver. If your loved one doesn't seem open to a caregiver, don't force them into accepting one. Instead, offer your assistance or talk to family members who can help. If they seem resistant to the idea, suggest starting with a part-time caregiver who can visit once or twice a week to help with tasks like laundry or transportation to a doctor's appointment. If additional care is needed, you can then talk to your loved one about more regular care once they're comfortable with their caregiver.
If you or an aging loved one is ready to learn more about caregiving, the team at Visiting Angels Mobile is happy to answer your questions. Our compassionate caregivers provide full-time and part-time care to help seniors with light housekeeping, meal preparations, mobility, personal grooming, medication reminders, transportation, and more. Our Mobile office serves those in Mobile and the surrounding communities. If you'd like to learn more about our services, you can complete this online form or call us at 251.345.4100.