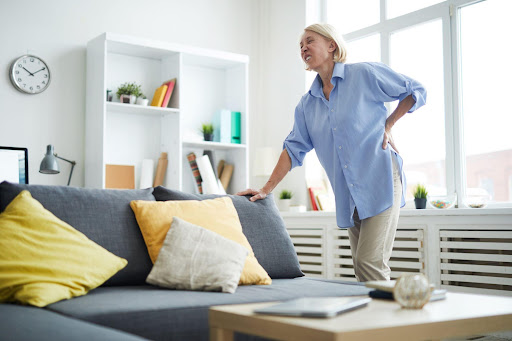 What Your Pain Could Be Telling You
New body aches and pains aren't unusual with age but living with chronic or even minor pain doesn't have to be an evitable way of life. September is Pain Awareness Month, and it's the perfect time to check in with your body and get to the cause of your pain so you can start your journey to living with the least amount of pain.
Headaches
A headache is any discomfort in the head or neck. There are different types of headaches depending on where the pain is felt and what it feels like. One of the most common types of headaches is tension headaches. A tension headache happens when scalp and neck muscles tense up, usually due to stress, anxiety, or a head injury. They cause mild to moderate pain and typically subside after an hour or two.
Another common headache is a migraine. Migraines produce a throbbing pain that can last anyway from a few hours to a few days. People with migraines also tend to experience nausea, sensitivity to light and sound, and vomiting. A migraine may subside on its own, but doctors can prescribe medication to treat and prevent migraines.
Joint Aches
Some people start to experience joint pain as they age. One of the most common causes of joint pain in seniors is arthritis, which is the inflammation of joints. There are a few different types of arthritis. One type of arthritis is osteoarthritis which happens when the tissue at the end of bones wears down. It's most common in the hands, neck, knees, and hips.
Another common contributor to joint pain is rheumatoid arthritis, an autoimmune disease that causes inflammation in the joints. It's most common in hands and feet and may also cause fatigue. Unfortunately, there is no cure for rheumatoid arthritis, but medications and physiotherapy can help manage symptoms.
Back and Neck Pain
Minor back and neck pain is common among people who sit or stand for long hours at a time. If you're sitting a lot, check-in with your posture. Try to avoid hunching forward or slumping in your chair. If you feel your posture is off or uncomfortable while sitting, you can invest in a supportive chair or chair rest to relieve some of the pain and improve your posture.
Back and next pain is also commonly caused by a disc herniation, most widely known as a pinched nerve. In addition to pain in the neck, disc herniation also causes pain in the legs. It may also cause weakness or tingling in the legs. You can often relieve the pain of a disc herniation with physical therapy or light stretching
A compression fracture may also cause back and neck pain. A compression fracture is a tiny crack in the vertebrae or spine bones. The fractures can start small, but over time, they may cause the vertebrae to collapse. Aside from pain, a compression fracture can also cause a change in posture. If you're experiencing signs of a compression fracture, you should seek medical attention as soon as possible.
Treating Pain
Daily stretches and light body movement can help you manage your discomfort for minor body aches and pains. If you're new to stretching, ask your doctor about stretches to target your area of pain. You can also take a yoga class from a certified yoga instructor to learn poses to help relieve discomfort.
For chronic pain, talk to your doctor about treatment options. They'll likely start by identifying the cause of the pain to ensure it's not a sign of an underlying condition. Once your doctor understands the source of pain, they can guide you on treatment options, including physical therapy, medication, or surgery.
If your pain makes it difficult for you to maintain your independence, the team at Visiting Angels Mobile, Alabama, can help. Our compassionate caregivers can assist with light housekeeping, meal preparation, personal grooming, medication reminders, mobility, and more. Our Mobile office serves those in the greater Mobile and the surrounding areas. If you'd like to learn more about our services, you can complete this online form or call us at 251-345-4100.