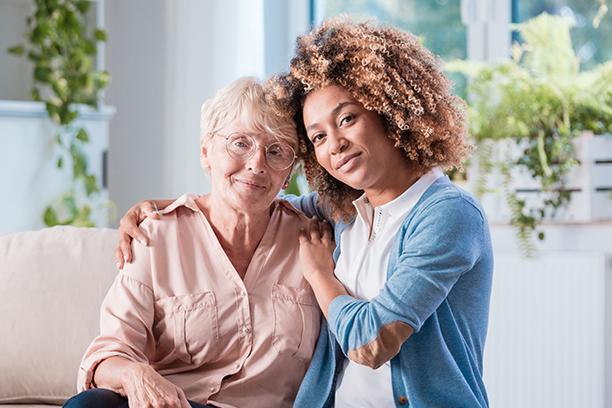 Mother's Day Makeover Greensburg PA
Woman suffering from stroke gets Mother's Day makeover
Seven months ago, Linda DeChicchis suffered a stroke that left her unable to move on her right side, unable to write, unable to talk.
On Thursday, she seemed to enjoy the fact that family members and friends were fussing over her at a posh beauty salon inside the Westmoreland Mall J.C. Penney.
She said it felt "weird" getting a free Mother's Day makeover, but it was so much better than where she was.
"It's been slow. I want to make it go faster," she said of her recovery.
Helped out of her wheelchair by her oldest son, Richard, she sat back and let Erin Reagan, senior stylist at The Salon by InStyle, do her thing with a brush and a blow dryer.
Sitting next to her was her sister, Mary Lou Walsh, 52, of Pittsburgh who also received a free makeover.
"This lets her know that we all care. And it makes her feel pretty," Walsh said.
DeChicchis, 53, of Jeannette and her sister got the full salon treatment as a surprise Mother's Day gift from Visiting Angels, a non-medical home care service that has an office in Greensburg. Visiting Angels staffers have been helping DeChicchis with light chores and personal care several times a week since she came home from the hospital.
"She is getting stronger with the help of therapists and making great strides," said Tina Capatch, Visiting Angels community liaison.
"It's amazing the progress she's made in such a short period of time," said Richard DeChicchis, 31, of Avalon.
Capatch said DeChicchis was chosen for the free makeover because, as a young stroke victim, she still needs help with simple daily tasks. Walsh was chosen because she's been coordinating a lot of her sister's care.
"You're going to look like Sophia Loren," Capatch said to DeChicchis as she arrived at the salon with a small entourage on a rainy morning.
DeChicchis wrinkled her forehead and looked suspicious.
The Salon by InStyle donated the hair services. After the shampoo and styling, DeChicchis went to Sephora inside J.C. Penney for makeup. Joseph Thomas Flower Shop in Greensburg provided the flowers.
DeChicchis, a former stay-at-home mom and manager at the Hempfield Giant Eagle, suffered a stroke on Oct. 14. Walsh said she found out via a text from her husband, Brian, who was present on Thursday, along with DeChicchis' three nephews, Michael, Patrick and Kevin.
"I think it brought everybody together. Everybody's pitching in to help," Walsh said.
DeChicchis spent a month at UPMC Mercy and was released for in-home therapy in November. She now receives occupational, physical and speech therapy outside the home three times a week, her son said.
She has been learning to write with her left hand and starting to read again, he said. And she's been going for short walks outside with her quad cane.
Also helping with her round-the-clock care is her son, Matthew, 25, who lives with her, and her daughter, Sarah, 28, of DuBois, Clearfield County. DeChicchis has three grandchildren.
Capatch said DeChicchis is proof that stroke is no respecter of persons.
"This is a silent killer of woman just as it is of men. The warning signs are the same, but women ignore these because we're running around with kids and grandkids," she said. "We want to make sure women know it's prevalent for them too."
Capatch said the best way to detect stroke in a younger person is through the F.A.S.T. test, which stands for:
Face – Ask for a smile. Does one side droop?
Arms – When raised, does one side drift down?
Speech – Can the person repeat a simple sentence? Does he or she have trouble or slur words?
Time – Time is critical. Call 911 immediately if any symptoms are present.
Stephen Huba is a Tribune-Review staff writer. Reach him at 724-850-1280, shuba@tribweb.com or via Twitter @shuba_trib.
Serving Eastern Washington County, Northern Fayette County and Westmoreland County
Visiting Angels
MON VALLEY, PENNSYLVANIA
820 South Main St
Greensburg, PA 15601
Phone: 724-216-0488