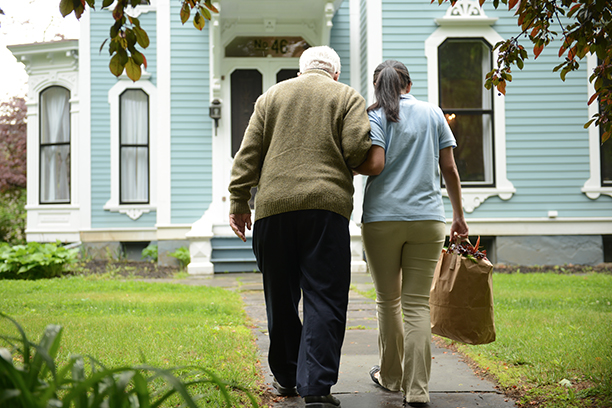 Home Care Services for Seniors in Coco River, FL
Visiting Angels Naples provides industry-leading in-home care services for seniors in Coco River, FL
As you age, it is normal for day-to-day tasks to become more challenging than they used to be. If a senior in your family is struggling to move around their home, hasn't been going out or is unable to get dressed on their own, they can find help with Visiting Angels Naples' efficient and thoughtful in-home care services. Our caregivers are carefully trained to take care of your senior's needs, and to provide meaningful companionship in their everyday lives. Discover how Visiting Angels Naples can help your loved on in Coco River, FL.
Independence, pride, comfort and mobility are very important in a senior's life. We understand these needs and are here to provide support during this time with our in-home senior care services. From planning and preparing meals, helping to remember when to take medication and even grocery shopping, our caregivers are here to make daily life possible and enjoyable again. With the help they need, your senior can maintain their independence with our support and have our assistance at their fingertips.
How Does Visiting Angels Naples Help Seniors in Coco River?
Alongside maintaining a normal lifestyle with our in-home senior care services, our caregivers are around to keep an eye on your senior loved one's current condition, whether it is steady or in decline, and to provide alterable support throughout that process and to maintain the effects of chronic illnesses. If your senior loved one needs a ride to the doctor's office, or someone to take them to a social event or even to go for a walk at the Naples Zoo at Caribbean Gardens, our caretakers in Collier County will see to it that they are accompanied so they can enjoy their time and rest easy.
Our home care services include:
Washing and bathing
Getting to the bathroom
Getting dressed
Doing the laundry
Doing the dishes
Taking out the trash
Lifting/reaching items
Developing a meal plan
Cooking meals
Medication reminders
Shopping assistance
Running errands
Lift to the doctor's office
Attend events
And more
It's important for your senior loved one to live life as they enjoy, in their home, and with the help they need. Our caregivers at Visiting Angels Naples recognize this need and do all they can to make it come true. In-home senior care is special because it allows older adults to stay in the comfort of their home while receiving the benefits of personalized, in-home support from a dedicated caregiver.
Contact Visiting Angels Naples to Learn More
Contact our Naples, FL office at 239-561-7600 to schedule a consultation or to further explore our home care services in Coco River.
Serving Naples, Marco Island, and throughout Collier County in Florida
Visiting Angels
NAPLES, FL
1016 Collier Center Way #102
Naples, FL 34110
Phone: 239-561-7600