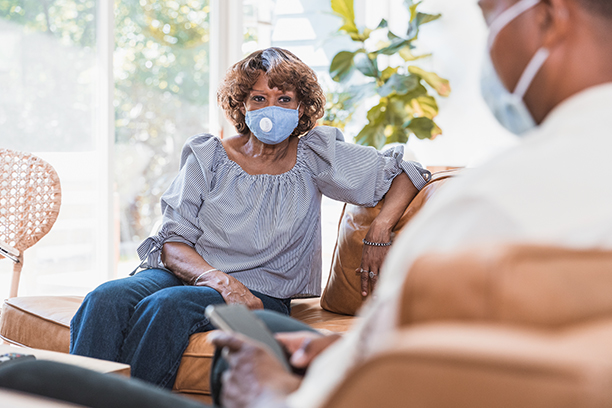 Palliative Care for Seniors in Nashville, TN, and the Surrounding Area
The Certified Palliative Care Program from Visiting Angels helps seniors in Nashville, Brentwood and surrounding areas in TN find comfort through personalized, one-on-one in-home care
Visiting Angels Nashville provides excellent in-home care with a balanced and holistic approach. Through the Certified Palliative Care Program, our caregivers will focus on your loved one's physical comfort as well as their emotional, social and spiritual well-being. Our goal is to restore hope and comfort to the seniors we work with so they can continue to live safely and comfortably in their own home.
What Is Palliative Care?
The Certified Palliative Care Program is designed to relieve discomfort and stress related to serious illnesses and health conditions so that loved ones can remain in the place they cherish—home.
While many people think palliative and hospice care are one and the same, there are key differences. While hospice care is meant for individuals with terminal illnesses or health conditions, palliative care can be provided regardless of life expectancy.
How Can Visiting Angels Nashville Help My Loved One?
At Visiting Angels Nashville, we know that a person's well-being is more than physical health. Our Certified Palliative Care Program offers a personalized, one-on-one approach to caring for the client's social, physical, spiritual and emotional health. Our caregivers will focus on your loved one's physical health and personal comfort. Often, we coordinate care with input from doctors, nurses or other medical professionals.
Do you have a loved one who is living with an illness or chronic condition? If so, our in-home care services can help your loved one manage their symptoms, provide meaningful companionship and make independent living at home so much easier.
Palliative care can assist individuals living with:
Amyotrophic Lateral Sclerosis (ALS)
Parkinson's Disease
Cancer
Heart Disease
Kidney Disease
Chronic Obstructive Pulmonary Disease (COPD)
Other serious health conditions
In addition to our palliative services, we also offer a dedicated program for end of life care.
Before getting started with our home care services, our team will provide your family with a free consultation that allows us to learn more about your loved one's situation. This detailed consultation will help us design a personalized care plan for your loved one. We will focus on your loved one's needs and situation, and we can design a program to include support for your family.
Contact Visiting Angels Nashville to Get Started
Contact our Brentwood, TN office at 615-697-4705 to schedule a free consultation. Our caregivers can provide the care your loved one needs to remain comfortable.
Serving Nashville, Brentwood, Franklin, Belle Meade, Green Hills and surrounding areas in Tennessee
Visiting Angels NASHVILLE, TN
750 Old Hickory Blvd Bldg 2 #150-120
Brentwood, TN 37027
Phone: 615-697-4705