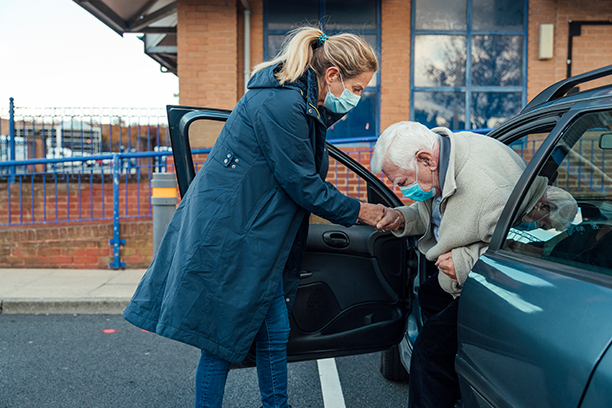 End of Life Care for Families in Nashville, TN and Surrounding Areas
With end of life care from Visiting Angels, families in Nashville, Brentwood and surrounding areas in Tennessee can get the meaningful support they need when a senior loved one is nearing their final days
As a senior nears their final days, stresses can run high. There is a lot of uncertainty that comes with passing away and, sometimes, physical pain as well. Families often feel the emotional toll that losing a loved one takes. They also feel the stresses of planning funerals and getting their loved one's affairs in order.
At Visiting Angels Nashville, we know that this can be very taxing on everyone involved. This is why we offer our end of life care program, which serves to comfort patients, both physically and emotionally, and to provide support for their families.
How Visiting Angels Nashville Supports Seniors and Families
The main focus of end of life care from Visiting Angels Nashville is to provide care to an individual whose illness is terminal, after all life-saving treatments have been attempted. At this point, end-of-life care steps in and keeps patients comfortable throughout their final days of living. The length of time that our care lasts can vary from patient to patient. Sometimes it's one day, sometimes it's one year. No matter what the time frame is, we are dedicated to providing quality for as long or as little as needed.
Our program provides an array of services when caring for seniors who are nearing the ends of their lives. These include:
Physical comfort
Mental and emotional support (for both the patient and their family)
Daily living such as housekeeping or running errands
Assistance with getting personal affairs in order such as legal and financial matters
Spiritual support
Our program does not include hospice care. However, we are happy to work alongside the staff of hospice care or other medical professionals. In fact, we encourage you to utilize both, if you desire. Doing so may provide a more well-rounded care plan that can address medical concerns, as well as comfort and emotional concerns.
It is very important for families to have a conversation about end-of-life wishes with their loved ones prior to the worsening of their conditions. This will help ensure that the patient is lucid and gives the instructions that they intend to, with as little confusion as possible. Doing this also gives the family enough time to plan. We encourage that you respect and follow all wishes of your loved one, regarding how they want the end of their life to be handled.
If you are interested in learning more about how end of life care from Visiting Angels Nashville can help your family during such a difficult time, please contact our Brentwood, TN office at 615-697-4705.
Serving Nashville, Brentwood, Franklin, Belle Meade, Green Hills and surrounding areas in Tennessee
Visiting Angels NASHVILLE, TN
750 Old Hickory Blvd Bldg 2 #150-120
Brentwood, TN 37027
Phone: 615-697-4705