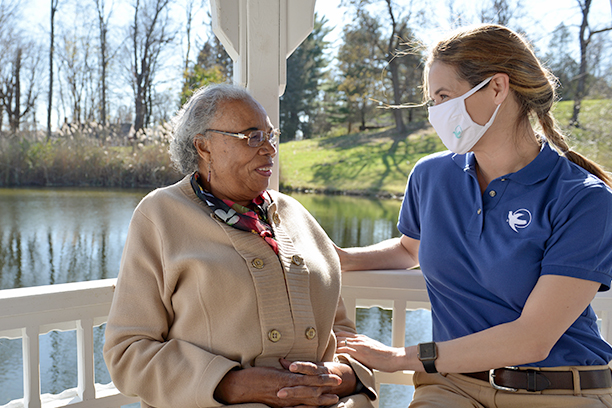 Social Care: How Our Home Care Specialists Help Seniors in Nashville, TN and Surrounding Areas Stay Connected
Through Visiting Angels' Social Care program, seniors in Nashville, Brentwood and surrounding areas in Tennessee can receive help from home care specialists with learning how to use digital technology so they can stay in touch with the people they care about
Now, more than ever, being able to interact with your friends and loved ones via technology is extremely important. During the COVID-19 pandemic, many seniors who live alone have had to utilize texting, social media, phone calls and video calls to stay in touch with their loved ones. However, being that they weren't raised in a time during which technology was prevalent, there is a learning curve that they need to experience in order to be able to use it.
At Visiting Angels Nashville, our skilled home care specialists are dedicated to helping seniors learn how to use technology, from computers to cellphones and beyond. Through our Social Care program, we educate our clients about social media platforms such as Facebook and Skype so that they can remain actively engaged with the people whom they are closest to.
How Can Seniors Benefit from Digital Technology?
Recent studies have shown that there are many emotional benefits to seniors who utilize technology. Some of these benefits are a decrease in depression, improvement in memory, healthier breathing rates and brain stimulation. However, learning how to use modern technology to communicate with loved ones can be challenging for some seniors. Your loved one may struggle to remember how to log onto social media profiles if they're living with dementia or may have trouble with using devices like smartphones and tablets if they're living with a condition that impacts their motor skills.
That's why at Visiting Angels Nashville, we're committed to providing seniors with the support they need to effectively use modern technology to stay in touch with friends and family. Our home care specialists are patient, compassionate and dedicated, so they'll stick with your loved one and make sure they're using the technology they have without hassle.
What Does the Social Care Program Include?
Through the Social Care program offered by Visiting Angels Nashville, our caregivers teach seniors how to:
Use a computer and/or a cell phone
Text, email and video chat
Create social media accounts such as Facebook
Log in, shop online, and use search engines
If you are interested in learning more about how our home care specialists can help your loved one, contact our Brentwood, TN office at 615-697-4705.
Serving Nashville, Brentwood, Franklin, Belle Meade, Green Hills and surrounding areas in Tennessee
Visiting Angels NASHVILLE, TN
750 Old Hickory Blvd Bldg 2 #150-120
Brentwood, TN 37027
Phone: 615-697-4705