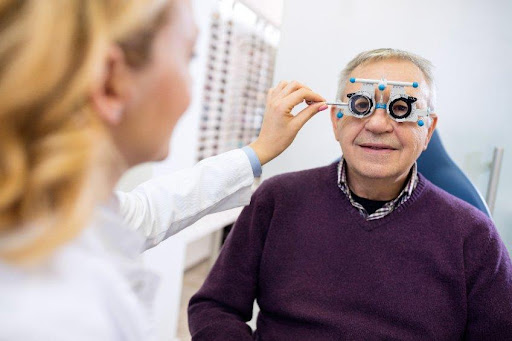 Common Eye Injuries in Seniors
The eyes are an essential organ in helping people navigate the world. And projecting your eyes from injury is vital to your overall eye health. July is Eye Injury Prevention Month, making it the perfect time to put preventative measures in place to keep your vision safe.
Common Eye Injuries in Seniors
Eye injuries can happen to anyone, but some seniors' most common injuries include corneal abrasions, eyelid injuries, bone injuries, and photokeratitis.
Corneal abrasion: The cornea is a transparent, protective layer at the front of the eye. Corneal abrasions are scratches to the cornea, often caused by dust, sand, dirt, or contact lenses. Signs and symptoms of a corneal abrasion include pain, tearing, redness, headaches, and a sensitivity to light.
Eyelid injuries: Eyelid injuries can range from black eyes to open wounds on the eyelid. Eyelid injuries may not seem serious, but they can cause damage to the tear ducts or the eyeball. Falling is one of the most significant contributors to eyelid injuries in seniors.
Bone injuries: Falling and physical trauma near the eye can cause fractures or breaks in the bones supporting the eye. These bones are fragile, so it does not take much force to cause injury. If not appropriately treated, broken bones can lead to vision loss or abnormal growth around the wound.
Photokeratitis: If you spend too much time in direct sunlight without proper eye protection, you may develop photokeratitis. Photokeratitis is a temporary condition caused by UV exposure. It causes pain, tearing, blurry vision, swelling, light sensitivity, headaches, and in severe cases, temporary vision loss.
Common Causes of Eye Injuries in Seniors
Many scenarios can put your eyes at risk for injury. Common causes of eye injuries in seniors include falls, dry eyes, and improper eye protection.
Falls: Falls are the most significant contributor to seniors' eye injuries. Sometimes, when a senior falls, they hit their head or face, causing trauma to the eye, eyelid, or bones around the eye.
Dry eye: When eyes are dry, it makes it easier for dust, dirt, and other particles to scratch the cornea.
Improper eye protection: Eye protection is not just wearing safety goggles when working with dangerous materials. Proper eye protection also includes sunglasses on sunny days to protect against UV damage. Sunglasses are also helpful in keeping dust and dirt out of your eyes if it's windy.
Preventing Eye Injuries
Eye injuries are common, but they're not an inevitable part of aging. Keep your eyes safe by taking a few preventive measures to reduce your risk of eye injury.
Attend your yearly eye exams. Visit your eye doctor at least once a year to monitor any changes in your vision. Doctors can also help identify potential injury risks and treat any injuries or irritations.
Wear protective eyewear. Always keep your eyes protected if you're around harmful chemicals or materials, but also remember to wear sunglasses on sunny and windy days to keep your eyes safe from the sun and dirt.
Wash your hands before touching your eyes. Wash your hands when you come in from outside or before you touch your face and eyes to reduce the chances of transferring harmful particles.
Use a humidifier. Humidifiers are great for keeping the eyes from getting dry. They also remove many particles and allergens from the air that could irritate the eyes.
If you are a senior adult who recently suffered an eye injury or lives with a vision impairment that makes it challenging to care for yourself, the team at Visiting Angels can help! Our Mentor office serves those in Lake, Geauga, and Northeast Cuyahoga counties. If you'd like to learn more about our services, call 440.974.0869 or send us a message.