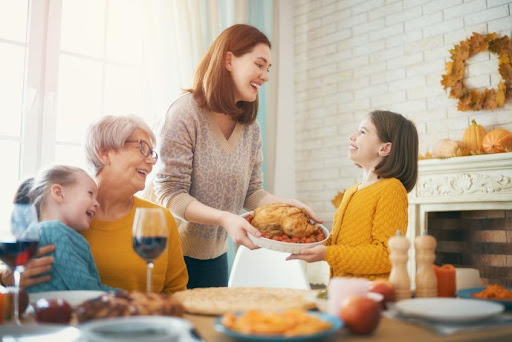 Holiday Meals You Should Try
The holidays bring families together, but the food during gatherings can often make or break the mood. Traditional holiday meals are always a great staple, it's fun to spice things up with a few new takes on holiday meals.
Holiday Appetizers
Try these tasty appetizers when you're hosting a large family gathering or want something to hold your loved ones over until dinner is ready.
Toasted Gruyere and Cranberry Cups
If you want something to pass around at a party that looks fancy but takes minimal effort, you'll love these gruyere and cranberry cups. First, preheat the oven to 450 degrees. Next, line a baking sheet with parchment paper. Mix one 10-ounce bag of frozen cranverries, ¼ cup of sugar, ½ teaspoon of orange zest, and ¼ cup of orange juice in a small saucepan. Heat the cranberry mixture on medium heat for about ten minutes. Once you cook the cranberry mix, combine four ounces of cream cheese and one cup of grated Gruyere cheese until smooth. Place frozen hors d'orrurve cups on the parchment -lined baking sheet and spoon about a teaspoon of cranberry and a teaspoon of cheese into each cup. Cook for about 10 minutes or until the cheese is melted.
Smoked Salmon Dip
The best part about dips is that they're easy to make and pair well with crackers, pretzels, and pita chips to satisfy everyone's preferences. Plus, they're easy to make. All you have to do is blend eight ounces of plain cream cheese, ½ cup of sour cream, 1 tablespoon of lemon juice, 1 tablespoon of dill, 1 teaspoon of horseradish, ½ teaspoon of salt, ¼ teaspoon of black pepper, and four ounces of minced smoked salmon. If you're not a fan of smoked salmon, play around with different seasonings or flavored cream cheese for a taste you enjoy.
Main Courses for the Holidays
If you're tired of roasted turkeys or pineapple ham for the holidays, try a balsamic roasted pork tenderloin or sage and butter Cornish hens.
Balsamic Roast Pork Tenderloins
Start by preheating your oven to 500 degrees. Next, place about four pounds of tenderloin onto a nonstick cookie sheet and coat them with a few tablespoons of balsamic vinegar and olive oil. As the meat absorbs the vinegar and oil, combine four tablespoons of salt, pepper, and garlic powder with two tables spoons of smoked paprika, onion powder, dried rosemary, and dried thyme. Sprinkle the seasoning over the tenderloin and place in the oven for 20 to 25 minutes. Let the meat rest for a few minutes after cooking before cutting and serving.
Sage and Butter Cornish Hens
Start by preheating your oven to 425 degrees. Next, place the Cornish hens on a sheet tray fitted with a cooling rack in the refrigerator for up to one hour to dry out the skins. While the hens are in the fridge, heat one stick of butter, 2 tablespoons of sage, 1 zested lemon, ½ teaspoon of salt, and ¼ teaspoon of black pepper. Lightly coat a large pan with olive oil and place over medium-high heat. Place the hens skin side down in the pan and sear the skins for about 10 minutes. Once seared, flip the hens over and cover them with the sage and butter mix. Then, place the hens in the oven and cook for 30 minutes. Let stand for about 10 minutes before serving.
Holiday Side Dishes
There's nothing wrong with a starchy carb on holidays but do forget to bring some vegetables into your holiday meal.
Pan Roasted Brussels Sprouts
If you're looking for a new way to cook Brussels sprouts, try pan-roasting them. Start by cutting your Brussels sprouts in half lengthwise. Next, heat one tablespoon of olive oil in a large skillet. Add two cloves of minced garlic, and cook until fragrant. Once the garlic aroma fills your kitchen, add the sprouts and cook until their tender. Finish them off by adding salt and peper to taste.
Creamed Spinach
Creamed spinach is perfect as a side dish, or you can enjoy it with chips as an appetizer. Start by melting about three tablespoons of butter over low-medium heat. Once the butter melts, add about two gloves of minced garlic. Next, add two cups of heavy cream, ½ teaspoon salt, and ¼ teaspoon black pepper. Stir the mixture and bring it to a boil. Lower the heat once it boils, and cook until the heavy cream mixture is thick. Add two pounds of frozen spinach and mix until the sauce covers it. Remove from heat and let settle before enjoying.
Working with Visiting Angels
If you're an older adult who needs assistance in the kitchen this holiday season, the team at Visiting Angels is happy to help. Our professionally trained caregivers can help with grocery shopping, meal preparation, and kitchen cleanup. Additional services include assistance with mobility, personal grooming, showering, transportation, medication reminders, and more.
Our Mentor office works with seniors and families in Lake, Geauga, and Northeast Cuyahoga counties in Ohio. To learn more about our services or to schedule a complimentary consultation, send us a message or call 440.974.0869.