Providing Support with Respite Care Services at Visiting Angels in Northeast Ohio
Whether you've recently begun caring for an elderly loved one or you've been a caregiver for many years, you've probably had times of overwhelming emotions. Not only are you trying to provide the best care for your loved one, but you're also juggling the demands of your everyday life. You may experience sadness in seeing a parent struggle to maintain their independence or stress in learning how to properly assist a senior relative after surgery.
Whatever you're feeling, whether it's anger, fear, or something else entirely, know you're not alone. Caring for a loved one can be a full-time job; one most families don't feel equipped to handle on their own. At Visiting Angels Northeast Ohio, we understand the time and effort it takes to care for another person, and we're here to help. Our mission is to provide more seniors with support and care in their homes while also supporting families as they transition into their role as caregivers. One of the ways we do that is through our respite care services, offering affordable part-time and temporary care services throughout Northeast Ohio.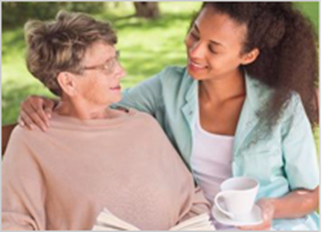 What is Respite Care?
Respite care is temporary care provided to families caring for seniors who need assistance. Our in-home respite care is provided by professionals trained to assist seniors suffering from dementia, recovering from a recent surgery or those who have a disability inhibiting them from performing daily tasks such as safely moving between rooms or preparing meals.
Why Should Caregivers Consider Respite Care?
Caretakers need to take care of themselves in addition to taking care of their loved ones. According to the National Alliance for Caregiving, primary caregivers spend an average of 20 hours a week caring for a loved one. Often this is in addition to managing a career and juggling other family responsibilities which can cause extreme levels of stress, depression and a general decrease in subjective well-being.
Respite care offers caregivers relief from the daily demands of caring for their loved ones. When a primary caregiver takes time for themselves, they're able to prevent burnout and bring their best selves to the loved one they're caring for. Even 30 minutes of self-care a day can go a long way in preventing future exhaustion or stress.
And respite care doesn't just benefit the caregiver. In addition to providing relief for caregivers, respite care is great for keeping your loved one active and engaged with individuals outside the family. It's not uncommon for seniors to feel isolated, especially if battling a condition that prevents them from leaving their homes. According to a recent study published in The Journals of Gerontology, Series B: Psychological Sciences and Social Sciences, non-relative visits, and care for a loved one can often lead to higher levels of happiness and greater levels of physical activity.
Types of Respite Care Services Offered at Visiting Angels
Whether you're looking for everyday support or need someone to take care of a loved one while you're out of town, Visiting Angels Northeast Ohio will ensure your loved one is safe, comfortable, and well taken care of at all times. At Visiting Angels, we offer three types of respite care services to Northeast Ohio residents.
Temporary Care: If you're taking a vacation or traveling for work, we'll provide in-home care for your loved one while you're away. Temporary care can be requested by days or weeks.
Part-Time Care: If you need time off every week to attend to work, family or other errands, our part-time caregivers can step in while you're gone. Part-time services are available for anywhere from 30 minutes to 25 hours a week.
Support Care: If you need assistance in caring for an aging family member, our caregivers can work with you to help provide the best care for your loved one. Support Care services are available for anywhere from 30 minutes to 25 hours a week.
Paying for Respite Care
At Visiting Angels, we provide affordable quality at-home care to residents of Northeast Ohio. We keep costs low by allowing for customizable services that cater to you and your loved one. You'll never be paying for extra services you don't use, and we'll work with each family to provide the most effective and affordable respite services. To learn more about the costs of our in-home care services, visit our Costs Page.
Getting Started with Respire Care at Visiting Angels
To provide the best care for your loved one, we believe it's important to get to know each family we work with. We want to understand not only the needs of the one receiving the care but the needs of the family. We'll want to know things such as how many family members are actively caring for the individual and what responsibilities caregivers have outside of taking care of their loved one. Understanding the roles of the individuals in the senior's life helps us understand the gaps where families may need assistance.
Before providing any care, we'll conduct a free in-home consultation to match your family's needs with a caregiver who possesses the proper skills to assist your family. During the at-home visit, we'll ask questions to help us customize the care your loved one needs. We'll discuss any physical care requirements, eating restrictions, medications and sleeping habits. We will also ask questions to better understand your loved one's personality, dislikes, and values. Our free consultations are also a great opportunity for caregivers to share concerns and ask questions about our respite care services.
We know choosing the right at-home respite care is a difficult decision, and we want to make sure you're making an informed decision to select the best care for your loved one and your family. Visiting Angels Northeast Ohio is honored to be the recipient of Home Care Pulse's "Leader in Excellence Award" and the "Best Home Care Award". These awards are only given to home care agencies who consistently rank the highest metric by Home Care Pulse. We also actively set goals of excellence based on client feedback to ensure we're continuing to provide the best possible care.
If you're interested in more information on respite care services, contact our Northeast Ohio Visiting Angels office at 440-974-0869.