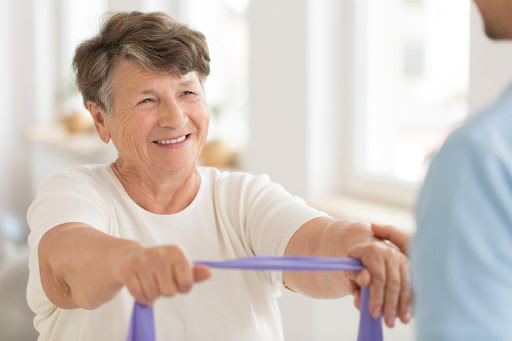 Senior-Safe Exercises to Improve Your Health
We all know physical activity provides numerous benefits to the body and mind, and it is essential to incorporate movement into your daily life, especially as you age. However, finding a safe, accessible, and fun workout is a challenge many seniors face. That's why we've compiled a list of senior-safe exercises to improve your health, along with a few activities to avoid and things to consider before starting a new workout routine.
Workouts to Consider as You Age
Water aerobics, chair yoga, cardio boxing, and walking are all excellent senior-safe exercise choices if you're excited about working out but are unsure where to start.
Water Aerobics
Water aerobics is a low-impact pool workout. It's a type of resistance training and cardio that is perfect for older adults because it doesn't stress the joints. Most people who enjoy water aerobics join a class where the instructor leads them through exercises like lunges, leg lifts, squats, and jogging. Some sessions will also use pool noodles or kickboards for added resistance. The benefits of regular water aerobics include improved flexibility, cardio, and strength. It may even ease joint and muscle pain.
Chair Yoga
Many people enjoy the benefits of yoga, such as improved balance and flexibility, but working through various yoga poses can be difficult for an older adult who's never done yoga before. The good news is you can gain the same benefits from chair yoga. Like traditional yoga, chair yoga focuses on breathing and movement, but all poses incorporate a chair to help with coordination.
Cardio Boxing
Cardio boxing is non-contact, boxing-based fitness that can help build strength, coordination, and balance. You can work your punches and defensive moments with a trainer, on a heavy bag, or shadow boxing at home. You might think putting on boxing gloves and punching a bag is only for the physically fit, but a nationwide nonprofit, Rock Steady Boxing, designs boxing-focused workouts specifically for people with Parkinson's disease and finds many older adults enjoying the challenge of cardio boxing.
Walking
People underestimate the effects of walking, but it's an excellent way to move your body, and you can do it anywhere! Grab a friend and walk around your neighborhood, a local park, or a pond. You can even drive to a nearby hiking trail if you're feeling adventurous. If you want to increase your workout intensity, try walking with small hand weights or alternating between a slow stride or a face-paced walk.
Exercises to Avoid with Age
We like to believe there's nothing we can't do with age, but there are a few physical activities you should avoid to reduce the risk of injury.
Heavy weightlifting- Strength training with light weights is a great way to build muscle, but heavy weightlifting can cause strains, sprains, and tears.
Running- If you're a senior who is an active runner and have been running as you age, it may be safe to continue your routine. However, if you're new to running, starting after age 60 can cause significant joint points, especially in the knees and ankles.
Plyometrics- A plyometric exercise, or jump training, uses explosive movement to build strength. Many seniors experience challenges in their balance and coordination with age, and plyometric movements can lead to falls and injuries.
Sparring- While there are many benefits to boxing with a heavy bag, it's generally not safe for older adults to participate in sparring or contact drills.
Additional Workout Considerations with Age
New to working out and want to ensure you're keeping your body and mind safe? Here are a few things to consider as you start planning a healthy future.
Always speak with your doctor before starting a new workout routine. A senior-friendly exercise doesn't mean it's a safe exercise for every senior. Always talk to your primary care physician before starting any new workout routines, especially if you have a condition that may inhibit your ability to do safe physical activity.
Work with a personal trainer if you're new to an exercise. The primary reason individuals injure themselves during a workout is that they're improperly performing it. If you're new to an activity, visit your local gym or fitness studio and ask to work with a personal trainer. Personal trainers are certified individuals who can ensure your movements are safe and effective.
Hire a professional caregiver to provide transportation and companionship. If you're a senior interested in getting more activity but need help getting to a gym or what company on a neighborhood stroll, consider hiring a professional caregiver with Visiting Angels. Our Mentor office works with seniors in Lake, Geauga, and Northeast Cuyahoga counties. Send us a message online or call 440.974.0869 to learn more.