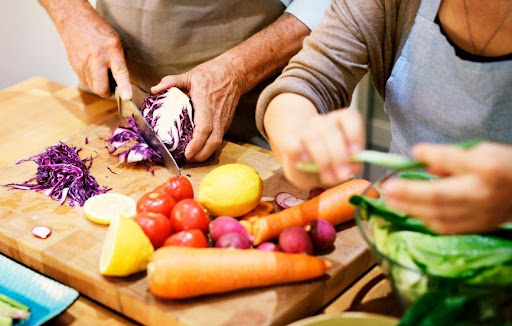 Unique and Healthy Lunch Ideas
Lunch is often the forgotten meal. Maybe it's because options seem dull, especially when trying to find something light, filling, tasty, and easy to make. It may sound unfathomable to have it all, but these unique and healthy lunch ideas will make you look forward to your next meal!
Apple and Gouda Grilled Turkey Sandwich
Sandwiches are a lunch staple, but it's easy to get bored with the traditional meat, cheese, and bread combination. Elevate your next sandwich with a few unconventional ingredients for something tasty and easy to make.
Start by placing a small skillet over low to medium heat. As the pan is warming up, take two pieces of your favorite bread and spread butter on one side of each. Place one slice of bread, butter side down, on a plate or cutting board, and begin layering your sandwich with a piece of gouda cheese, then a few slices of turkey, followed by thinly sliced pieces of your favorite type of apple. Place the final slice of bread on top, the butter side up, and the whole sandwich in the skillet. Simmer the sandwich on each side for about 3-5 minutes or until golden brown. Once it's cooked and the cheese is melted, remove the sandwich from the heat, cut it in half, and enjoy!
Cold Noodles with Vegetables and Almond Butter Sauce
Creating a dish with cold spaghetti may not sound appealing initially, but this Asian-inspired dish is an excellent way to incorporate fresh vegetables, protein, and fiber into your diet.
Start by cooking 4oz of whole wheat spaghetti noodles according to the package instructions. Once you've cooked the pasta, run it under cold water, toss in olive oil and set it aside while it cools. Next, you're going to prepare your almond butter sauce. Mix ¼ cup of almond butter, 1 teaspoon of ginger, 2 tablespoons of soy sauce, 1 clove of minced garlic, 3 tablespoons of rice vinegar, 1 tablespoon of sesame oil, 1 tablespoon of pure maple syrup, and 1 teaspoon of lime juice.
Let the sauce sit while you add two cups of shredded carrots, 2 cups of drained chickpeas, and 1 cup of thinly sliced zucchini to the pasta. Add the sauce to the spaghetti and vegetables, and let everything sit in the fridge for at least an hour. Once the flavors have soaked, put some in a bowl and dig in.
Avocado Chicken Wrap
Not quite a sandwich, but within the same realm, wraps are a fun way to spice up your traditional lunch game without extra work.
Start by heating a small amount of olive oil in a small pan over medium heat. Slice a raw chicken breast into thin tender-shaped pieces and add the chicken to the pan. Cook each side of the chicken for about 5 minutes or until golden brown. Remove the chicken from the pan and set it aside. In the same pan, place a tortilla flat on the bottom and simmer each side for about 15 seconds. Place the tortilla on a plate. Add lettuce, tomatoes, and sliced avocado to the tortilla. Top it off with a few chicken pieces and wrap the tortilla so no ingredients fall out. Add cheese or your favorite condiments if you want a bit more flavor.
Working with Visiting Angels
Are you an older adult who needs help in the kitchen? Maybe you don't find cooking the most enjoyable pastime, or it isn't easy to grocery shop and prepare your food daily. Whatever your kitchen challenges are, Visiting Angels is here to help. Our team of professional caregivers can assist with running errands, meal preparation, cooking, and cleanup. They also provide additional at-home services such as light housekeeping, laundry, personal grooming, and medication reminders.
Our Northeast Ohio office serves those in Lake, Geauga, and Northeast Cuyahoga counties in Ohio. If you'd like to learn more about our services or schedule a complimentary consultation with an at-home care expert, send us a message or call 440.974.0869.