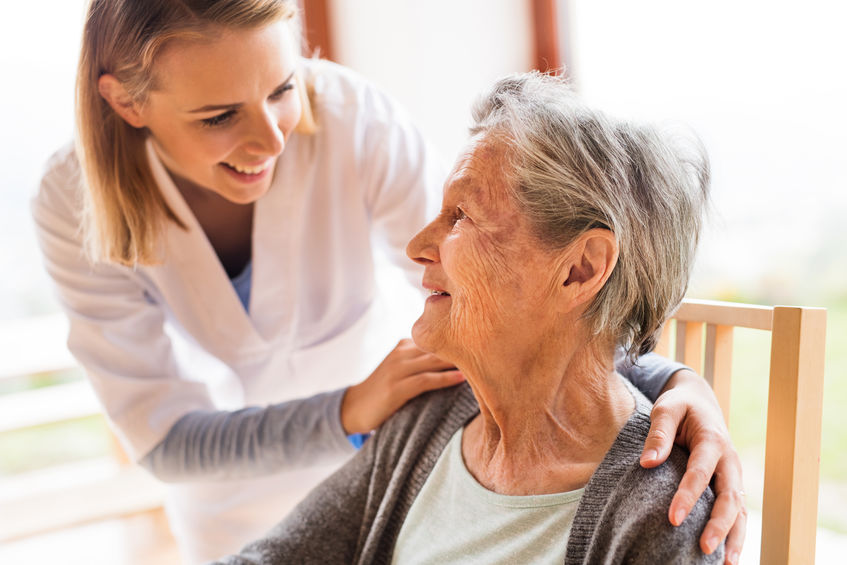 Working as a Visiting Angels Caregiver
At Visiting Angels Northeast Ohio, we pride ourselves on the compassionate, dedicated, and nurturing individuals that choose to join our team of caregivers. Our caregivers are the people interacting with and caring for our clients, so they must possess the right qualities to perform the proper services for our beloved clients.
Qualities of a Visiting Angels Caregiver
Anyone can provide care to another individual, and most of us will take on a caregiver role at some point in our life, whether that's to a child or an aging loved one. However, certain qualities set some caregivers apart, and it's those unique qualities that we look for when we're building our team of Angels.
Compassion, empathy, and kindness are three crucial qualities that set our caregivers apart. Aging is challenging and brings many emotions. Many clients, especially new ones, are coming to terms with the fact that they need additional help to stay safe in their homes. Caregivers need to understand clients' perspectives, empathize with them, and show compassion in their care.
We also want our caregivers to have a great sense of patience. Most days with your clients are going to be great. Many of our clients and caregivers build solid relationships, and some days may feel more like hanging with a friend than going to work. But other days may not run with such ease. There will be long days that evoke stress, and it's vital to stay calm and patient when working with clients. Understand that if a client is expressing their sadness or frustration, it's not personal, and showing them patience is one of the best ways for you to help them at that moment.
Another essential quality for Visiting Angels Northeast Ohio caregivers to possess is self-motivation and determination. Caregiving is a one-on-one job. While there's a team available to help you when you need it, you'll be responsible for yourself and your client. Not only do you have to provide the proper care to your client, but you also have to make sure you're communicating with the case managers and the office to make certain logistics are addressed. You also have to be observant and take the initiative when working with clients. You're likely the person spending the most time with them, and you want to take notice if something changes that may require a change in their care.
Caregiving with Visiting Angels Northeast Ohio is about showing respect toward your client and doing your best to make sure they're getting the care they need. As Visiting Angels Northeast Ohio caregiver Jane Bouman says, "Give your client the same respect, care, nurture, and interaction you would want someone to give your loved one."
The Work as a Visiting Angels Caregiver
Each client with Visiting Angels Northeast Ohio has different needs. Some clients may want their caregivers to take on more of a companionship role, while others may need more extensive care. Most clients look for help with light housekeeping, meal preparations, medication reminders, and transportation to doctor's appointments or grocery stores. Some clients need additional help with mobility and personal grooming. We also work with dementia clients whose needs vary day by day. Other services we offer include transitional care, where we help seniors transition back home after a hospital stay, and end-of-life care to allow clients to enter their final stages of life.
As a Visiting Angels Northeast Ohio caregiver, you'll receive the proper training and support for each situation and everything in between. And that training and support continue as you work with more clients. You'll always have access to the office staff and case managers whenever you have questions. Even though you're working one-on-one with clients, we do our best to make sure you never feel like you're working alone.
The Visiting Angels Northeast, Ohio office is now hiring! If you think you have the caring spirit to become a Visiting Angels caregiver, submit your online application or give us a call at 440.974.0869.