Home Care Services in Rocky Hill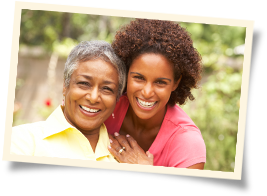 If you're weighing the pros and cons of home care services for your loved one in Rocky Hill vs. placement in a nursing home, we'd like to share some helpful information. At Visiting Angels® Newington, we've been helping families navigate through what can naturally be a stressful and emotionally-charged determinative process.
To begin with, there are a number of general benefits to home care services vs. nursing home care that you may not already be aware of:
Affordability. Home care services are far less expensive overall than nursing homes. By providing customized services, based on only what your loved one needs at times when they need it, you don't wind up paying for unnecessary care that you do not need or use.
Comfort of Familiar Surroundings. Home care allows your loved one in Rocky Hill to remain in the comfort and familiarity of their own home. This is especially helpful for those suffering from dementia or Alzheimer's, though even the average senior benefits from and widely prefers the comfort of home.
Customized Care Options. Our home care is fully customized, meaning we can take on tasks that just might not be available at a nursing home, at the times that work best for you.
Personalized Care. Our care is highly personalized, one-on-one attention. Our caregivers are carefully matched to suit the personality and temperament of your loved one.
Safety & Health Benefits. Our home care allows your loved one to remain in their home safely. We are available to them 24/7, should a need arise. The improved sense of well-being they experience often results in better overall health outcomes and a marked decrease in depression and anxiety.
Promotes Independence. Home care helps your loved one retain a sense of independence that is vitally important to us all as we age.
Our Home Care Services Available in Rocky Hill
At Visiting Angels Newington, we will design a customized plan of care for your loved one, based on their individual needs. Our home care services are available 24 hours a day, seven days a week. Some commonly requested, everyday tasks we can assist with include:
Gentle and dignified bathing, dressing, and grooming
Walking assistance
Meal prep
Eating assistance
Housework
Errands
Doctor's visits
Social network assistance (i.e., Zoom and Facetime facilitation)
Friendly companionship and empathetic listening
And much more
In addition to our customized service, we provide a complimentary fall-risk assessment and recommendations for how you can make your loved one's environment as fall-averse as possible.
At Visiting Angels Newington, we are honored to provide our home care services to aging adults and their families in the following nearby locations:
Rocky Hill
Newington
West Hartford
Farmington
And the surrounding community
Schedule Your Free Consultation
If you'd like an expert assessment of your personal situation to determine if home care services are right for your loved one in Rocky Hill, please reach out to Visiting Angels Newington today and schedule a free consultation.