Identifying the Right Time for a Homecare Service in Rocky Hill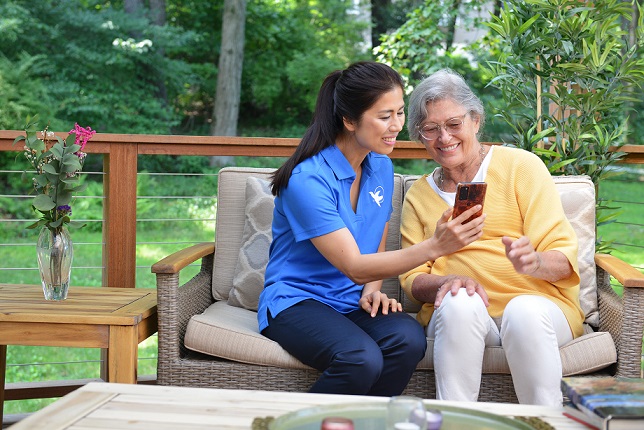 If you have an elderly loved one who lives alone in their own home, a time will likely come when they need a bit of one-on-one support. Many seniors struggle with daily self-care, house cleaning, and other tasks, but having a caregiver around can be a terrific way to keep them out of a care facility. With our homecare service for Rocky Hill area seniors, Visiting Angels® Newington provides the direct support many seniors need to continue aging in place.
As a loving family member, it is your job to pay attention to the warning signs and identify the right time to seek help. This may be a difficult decision, but providing your loved one with the help they need can make all the difference to their quality of life. Here are some things to look for when deciding if now is the time to secure our homecare service in the Rocky Hill area.
Signs That it is Time To Secure Our Trusted Homecare Service
Falls or injuries.
Preventing household falls is one of the major reasons for hiring a home care provider. Seniors suffer from declining physical abilities, and this often leads to disastrous falls during normal daily activities such as bathing, getting dressed, or walking down the stairs.


Increased phone calls.
Does your loved one ever seem confused, scared, or anxious on the phone? Do they call at odd hours of the night?


Increase in medication.
You may notice that their medication begins to pile up. This is a sign that they are forgetting to take it and may require some direct memory assistance. Medication reminders are one of the many crucial services our caregivers can offer.


Reduced self-care.
If your loved one is suffering from any sort of physical limitations, they may find it difficult to shower, change clothes, and groom themselves. You may notice that they wear the same clothes and do not seem to have showered.
Homecare Service to Support Rocky Hill Area Families
When it becomes clear that your loved one needs some extra support around the house, it's important not to put too much responsibility on your own shoulders. Caregiver burnout is a serious issue, and when you wear yourself too thin, it's not good for anyone. With our help, you can provide all the care and companionship your loved one needs, while giving yourself the chance to live a more balanced life. Our compassionate in-home assistance is available throughout:
Rocky Hill
Newington
West Hartford
Farmington
And the surrounding areas
For more details about our homecare service options in the Rocky Hill area, call Visiting Angels Newington and book your free care consultation today.