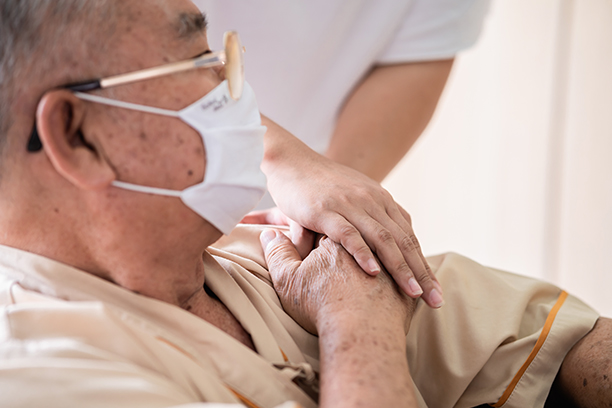 The Benefits of Being a Visiting Angel
Visiting Angels Newton/Canton caregivers are skilled, compassionate, and loving people who care for seniors and disabled adults in Newton, Massachusetts, and surrounding neighborhoods (see list of service areas below.) Our caregivers help fulfill the goals of our clients and their families to remain in the comfort of their homes or have personalized, one-on-one support in facilities and living assistance communities.
Let's explore the many benefits of being a Visiting Angels Newton/Canton caregiver and why you should join our team of talented people. Many of our caregivers have been with us for several years or work exclusively for our agency because of our strong commitment to them.
Why Join Visiting Angels Newton/Canton, MA as a Caregiver
Our caregiving staff voted

Visiting Angels

Newton/Canton one of The Boston Globe's

Top Places to Work

seven times

and one of the 10 best places to work in Massachusetts based on diversity and inclusion in 2021. We have also earned the Best of Home Care – Leader in Excellence, Best of Home Care Provider of Choice, and Best of Home Care Employer of Choice awards from Home Care Pulse, an independent satisfaction and quality assurance company

, demonstrating our commitment to the welfare of our employees as well as our clients

.
We recognize our top-performing caregivers through Angel of the Month awards, Home Care Pulse Caregiver Excellence awards, and Caught in the Act of Caring bonuses for caregivers who go above and beyond assisting our clients.
We care about the well-being of our employees. We offer competitive pay, recognition bonuses, and annual raises, provide generous paid sick time, and will work around your scheduling needs. We offer paid training, a 401K retirement program, and health and medical benefits.
We get to know you. Our staff takes the time to learn about each caregiver's experience, skill level, and personality. Our case management team works hard to match you with clients best suited for you and will schedule an initial introduction to ensure compatibility.

Supportive

management and staff will encourage and assist you throughout your career and be there for you when you have any questions or experience challenges with your clients.
We make sure you are prepared for your shifts. We hold a detailed orientation when onboarding new caregivers to ensure success and understanding of the role and expectations of the job.
We at

Visiting Angels

Newton/Canton value our caregivers and staff and invest in them by offering opportunities to participate in hands-on and online training courses to further their knowledge and skill set. One of the ongoing educational opportunities we offer is through Visiting Angels University, an online home-care training program.
What We Look for in a Caregiver
Visiting Angels Newton/Canton hires the best of the best in senior care. Whether you have several years of experience as a professional caregiver or are just beginning your career, we take significant measures to evaluate each prospective team member. Our mission is to provide exceptional support to our clients by choosing people with the appropriate skillset. One of our conditions is a minimum of one year of experience assisting an elder in their personal lives or as a professional caregiver. Other requirements include passing a background check, a TB test, the ability to speak, read and write English, and providing professional references. HHA or CNA certification is preferred.
For more information, read our blog post on what home care agencies look for in caregivers. and the difference between HHA and CNA certifications.

We Love Our Caregivers, and They Love Us Back
"Visiting Angels Newton/Canton is the first home care agency I've ever worked for, and my experience has been great! I call this company my 'Angel Family!' You can tell that each person that works in the office does this job from their heart. Everyone is concerned about how I am doing and will guide or support me if I need something or have a question."
-Paul G., Angel of the Month July 2022
"I love Visiting Angels Newton/Canton and have always felt the love back from the staff! Every case manager, through the years, has treated me with respect and concern. And I truly appreciate that each of them has asked me what I am comfortable with and put effort into introducing me to clients before assigning me shifts.
[The case management team is] so compassionate and understanding. They take the time to train you on the particulars of a case and will put you at ease at a client introduction. Each case manager communicates carefully and is invested in your success."
-Nosa O., 16 Years with Visiting Angels
"I was working at several other agencies when I joined Visiting Angels. I left the other agencies and have only worked for this one since I was hired. I will never work anywhere else! I am treated as if I am family. I have enjoyed working with [my case manager]. They are very kind and respectful. I am also getting to know [the other case managers], who have been friendly and appreciative of my work. Everyone is professional and thoughtful and truly cares about the caregivers here."
-Kettlie J., 13 Years with Visiting Angels
View More Caregiver Testimonials
If you are looking for a rewarding job in senior home care with a supportive, caring, and experienced office staff where you have room to grow and develop your skills as a professional caregiver, we are the agency for you! We genuinely value our caregivers and provide them with the training and assistance needed to succeed in their careers. This could be the perfect opportunity for you.
Join Our Team Today
If you are looking for work as a caregiver, we would love to meet you! Click this link to apply with us today or call us at (617) 795-2727.
Visiting Angels Newton/Canton has been providing services to clients in Boston's (Upper) Back Bay, Brookline, Canton, Dedham, Hyde Park, Jamaica Plain, Natick, Needham, Newton, Norwood, Roslindale, Stoughton, Watertown, Wellesley, Westwood, and West Roxbury, and neighboring communities in Massachusetts since 2004.
Serving Brookline, Canton, Dedham, Natick, Needham, Newton, Norwood, Stoughton, Watertown, Wellesley and Westwood
Visiting Angels
NEWTON/CANTON, MASSACHUSETTS
29 Crafts Street Suite 320,
Newton, MA 02458
Phone: 617-795-2727
Fax: 617-244-0260
What our Caregivers say ..
"I feel so supported. The office team is always ready to help, and the staff is very communicative and available whenever I have a question or need assistance with something. I really appreciate that the case managers work hard to match us with the right clients." -Gladys M.
"The training was excellent. They take care of us to make sure we are good." -Aniola D