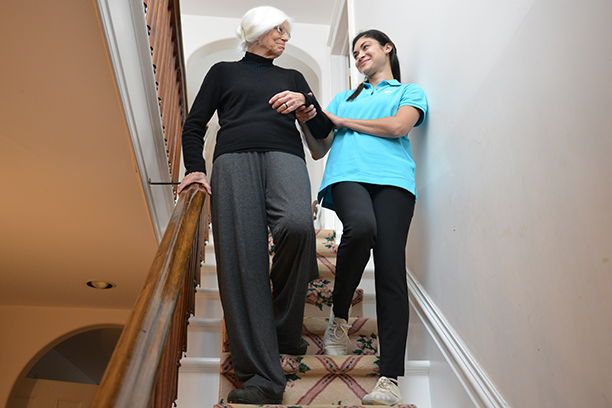 Home Care Questions & Answers
Selecting home care for a loved one can be an overwhelming decision. You may face more questions than answers when searching for the right home care agency. Visiting Angels, which has assisted families across the country with compassionate and professional home care services since 1998, can answer the questions you need to make a decision that makes sense for your loved one and you. Visiting Angels also provides free home care consultations and assessments to help guide your process and give you peace of mind without any pressure.
Below are some common questions families have asked about senior care. If you need more information or would like to speak with one of our helpful team members, please call 800-365-4189.
What Services Do Visiting Angels' Caregivers Provide?
Visiting Angels can provide dedicated companion care and personal care services to assist with everyday activities, so your loved one can preserve their independence while remaining comfortably and safely at home. Home care services include:
Companionship
Grooming, dressing, bathing, and toileting assistance
Light housekeeping
Medication reminders
Meal preparation
Mobility and transfer assistance
Running errands
What Does "Aging In Place" Mean?
Aging in place refers to a person's ability to safely grow old in their current residence — whether it is their own home, a family member's home, or an assisted-living facility.
What Are The Benefits of In-Home Personal Care?
In addition to aging in place, a professional caregiver provides many benefits, including:
A customized home care plan that reflects unique needs and requests
Companionship and social interaction that reduces the risk of isolation and depression
Flexibility to receive care when needed most
Lower home care costs when compared to assisted living or nursing home care
One-on-one, personalized care
Peace of mind that your loved one is receiving compassionate care from a trusted professional
Supervision and assistance that reduces the risk of falls, injuries, and other household accidents
How Is In-Home Personal Care Different Than Home Health Care?
Home health care is medical care provided in the home by a trained and certified medical professional, such as a nurse, physical therapist, or occupational therapist.
Visiting Angels' caregivers do not provide medical care and will not assist with tasks such as administering medication or changing wound dressings. Non-medical home care services will provide your older adult with companionship and assistance with activities of daily living, such as grooming, dressing, toileting, light housekeeping, meal preparation, and errands.
Does Visiting Angels Provide Services in Assisted Living Facilities?
Yes, Visiting Angels does offer its services in assisted living facilities. Staff members at assisted living facilities tend to care for more than one older adult during each shift. Some families hire a professional caregiver to supplement the assistance provided by facility staff and, as needs change, increase the duration or frequency of care for your loved one.
A Visiting Angels' caregiver provides additional support for your loved one to remain in their current residence with their current level of care for a more extended time. Professional caregivers can help the need for your loved one to move to another part of the facility where their independence is curtailed, and daily rates for care may be higher.
Can I Change the Home Care Schedule?
Yes, you can change or alter the home care schedule. The goal is to make the plan work for your family, not the agency. Although one week's notice is asked for permanent schedule changes, Visiting Angels understands unexpected changes are sometimes necessary on short notice. Coordinators will do everything possible to ensure you get the schedule you need to accommodate emergencies.
Does Visiting Angels Care for People With Alzheimer's Disease or Other Medical Conditions?
Although Visiting Angels' caregivers do not provide medical care, they offer professional personal care services for older adults with Alzheimer's disease and other medical conditions. If your older adult needs assistance with self-care tasks such as grooming, bathing, dressing, meal preparation, shopping/errands, and light housekeeping — or needs companionship and social interaction — a Visiting Angels' caregiver can help.
Many Visiting Angels' caregivers have personal or professional experience with Alzheimer's care or other health conditions, and some have elected to pursue specialized care certifications from reputable industry organizations. Caregivers also have access to specialized training through Visiting Angels' "Caregiver University" for conditions that include dementia, congestive heart failure, and diabetes. If a caregiver notices any problematics symptoms or changes in your loved one's condition, they will alert a coordinator, who will contact you with information.
How Can I Get In Touch With My Local Visiting Angels Office?
Contact your nearest home care office or call 800-365-4189 with any home care questions.
How Do I Start Home Care Services With Visiting Angels?
The first step is to contact your local Visiting Angels office to schedule a free home care consultation with a care coordinator, who will meet with you to discuss your needs, answer your questions, and provide additional information about services.
If you hire a Visiting Angels' in-home caregiver, the care coordinator will perform a complimentary home care assessment and develop a care plan that outlines the services for your loved one.
Visiting Angels will identify caregivers with the skills, personality, and availability to assist your loved one. You will then be able to meet the caregiver, and if you and your loved one approve, they will begin working for you.
What If I Would Like To Select A New Caregiver?
Visiting Angels believes successful home care starts with finding the right caregiver. Through the Select Your Caregiver program, a care coordinator will get to know your loved one and provide a personalized recommendation to match them with the right caregiver successfully.
An in-home caregiver can be an adjustment for older adults, and it can take time for your loved one and caregiver to get comfortable with each other. However, if — for any reason at any time — you feel the caregiver isn't the right match, you can reach out to your coordinator to recommend another caregiver.
What If I No Longer Need Services?
If you no longer need services from a Visiting Angels' caregiver, you can request a two-week notice to cancel. If you need to decrease the number of hours/days your loved one receives care, you can make permanent schedule changes with a one-week notice.
Serving Lafayette, Kokomo, Frankfort, Tipton, Crawfordsville, Russiaville, Greentown, Cicero, Arcadia & Sheridan, IN
Visiting Angels
NORTHERN CENTRAL INDIANA
7 South Main St
Frankfort, IN 46041
Phone: 765-670-6260
Fax: 765-670-6258